The incredible onsen in Niseko don't quite fit the stereotype of endless powder, bluebird mornings, and luxury ski accommodation. Isn't that perfect? That means you can still enjoy all of Niseko's most famous selling points while sneaking into awesome onsen that nobody else has heard of.
It can be our little secret.
The onsen in Niseko are unique, addictive, and oh-so-soothing. They're a deeply important part of Japanese culture and come in all sizes and shapes. Unwind, exhale, and allow your aching bones to melt into the most gorgeous natural baths you can imagine.
Not interested in skiing? No problem – our favourite onsen are a must-visit for anybody visiting in Niseko. In fact, many Japanese residents go on onsen holidays!
From ice baths all the way to 44°C waters, from sunset views of Mt Yotei to natural springs, here are the best onsen in Niseko.
What is a Japanese Onsen?
Not so fast! What is an onsen anyway? Are there rules? And are foreigners allowed in?
Let's start with the basics – what even is an onsen?! This one's a little bit difficult to answer. An onsen can be anything you want it to be! There are more than 2,000 onsen spread across Japan, and that's accounting for many of them closing in recent years.
'Onsen' is the traditional name for a Japanese hot spring. It can be a natural body of water that's geothermally heated to scalding temperatures, or it can be a man-made facility built within a hotel. Some onsen use natural spring waters from nearby sources, but many in modern hotels (and in Niseko) will use normal water instead.
Technically speaking, an onsen has to include one of the 19 chemical elements that are naturally found in Japanese spring waters. But then again, Niseko is a unique place, and some of the onsen in town make do with water that doesn't contain any of those chemical elements.
Onsen are an essential part of any visit to Japan, and we're going to say that no Niseko holiday is complete with stripping down and settling into piping hot mineral waters with the air dancing all around you.
These Japanese bathhouses are becoming more and more modern, and you don't need to worry about being unwelcome or covering tattoos. Many onsen in Niseko allow visitors with small tattoos to enter. But you're still in Japan – be respectful (and try to bring cash!).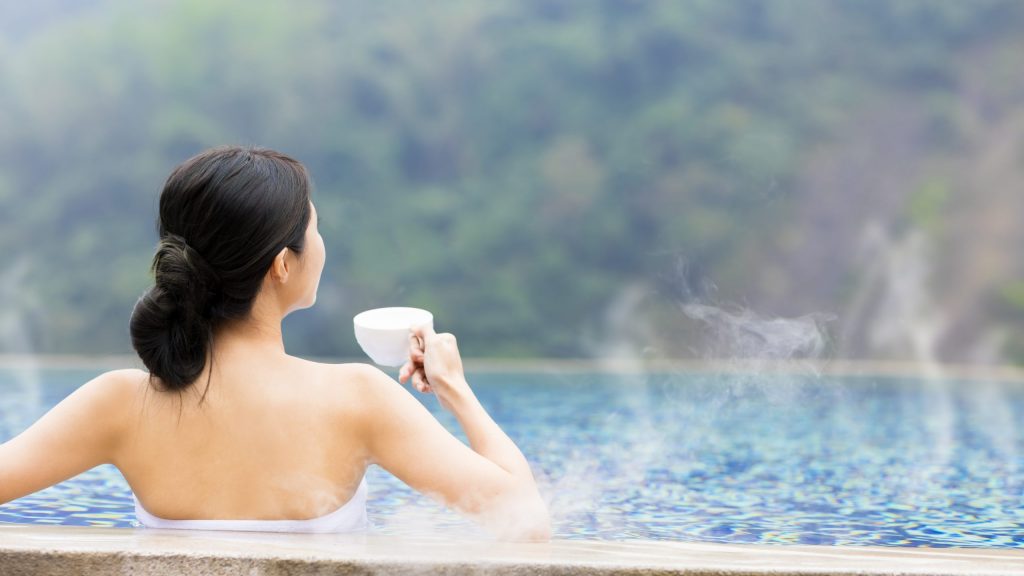 The Best Onsen in Niseko
Now that we've got the ground keeping out of the way, let's get to the good bit! There are several onsen and bathhouse options in Niseko, some of them slightly out of town, and many of them within walking distance from the gondola.
Keep in mind that many of the onsen are within hotels and are for guests only. Trust our list and you won't go wrong.
Niseko Prince Hotel Hirafutei
Prince Hotel has one of the best onsen in Niseko and the best part is that it's open to the public. The baths are accessible almost 24/7 (4am onsen anybody?) and large enough that they'll never be full.
This one's a (very) short walk from .Base (dot base), and there are even private open-air hot spring baths that you and your friends can hire together. Speak to your Elite Havens team and they'll happily pick you up from your chalet, drop you off at the onsen, and get you home with your heart warmed.
Niseko Grand Hotel
You'll quickly realise that onsen in Japan are strictly gender-segregated. That being the case, Niseko Grand Hotel is one of the very few onsen in the whole of Japan that has mixed-gender baths.
Sure, there are still female-only and male-only pools within the complex, but if you'd rather enjoy the onsen experience with your partner, then head to this one near Annupuri. Ski to the bottom of Annupuri, grab some lunch and an onsen, then ski your way back to Niseko. What a day!
Hilton Niseko Village
You'll find Niseko Higashiyama Onsen within the Hilton Hotel in Niseko Village. Again, you can start your day in Niseko and ski across to Niseko Village. Or, alternatively, hop on the quick bus (free so long as you have a ski pass handy).
As well as having several beautiful, varied, and therapeutic indoor baths, Hilton Niseko even has an outdoor bath with a stunning view of Mt Yotei too. And when you've had enough of the onsen? Jump across to Wakka Spa where you'll find massages, facials, and body scrubs to destress your body from head to toe.
More Onsen
That's not enough for you?! Well say no more. If you have access to a rental car, then be sure to check out nearby Makkari Onsen with jaw dropping views of Mt Yotei from the comfort of the outdoor bath.
And if you're coming back from Rusutsu or Kiroro instead, then be sure to stop in at Kyokoku Onsen, complete with purple waters and piping hot saunas. Ikoino Yuyado Iroha comes with every type of spa facility imaginable, and Yukichichibu Onsen uses natural waters with a strong sulphur content if you're looking for something a little more natural.
Be respectful, adhere to the rules, and unwind in a truly remarkable and relaxing Niseko onsen.