The first thing you see upon stepping inside Villa Amanzi Kamala is the grand and luxurious 180-degree view of the ocean. Surrounded by modern furnishings and a large expanse, you feel as though you're floating above the water in your own private paradise.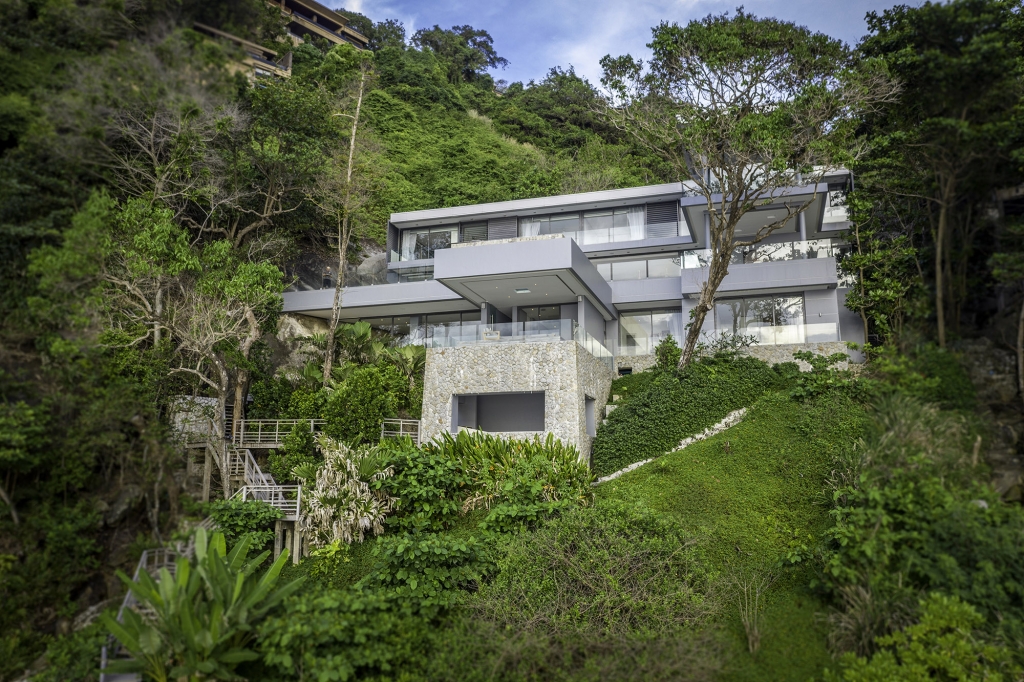 Below you is the games room in which a large boulder the size of a hill rests – untouched from the original place Mother Nature left it in. This forms part of the villa, and leaves you breathless. On the 2nd floor, aptly-equipped bedrooms fill a large hallway. You will want for nothing.
But the real draw of the venue is the modern kitchen, where your chef will be able to make you anything you ask for. We interviewed Villa Chef Thietam to get his insights into cooking in this beautiful villa.
Elite Havens: Hi, Chef Thietam. How did you learn to cook?
Villa Chef Thietam: I started when I was 18 years old; I'm 35 now. I was working with people who knew how to cook, and I learned to cook from them and then I started cooking on my own. And later on, I worked in hotels so I learned to cook from there too.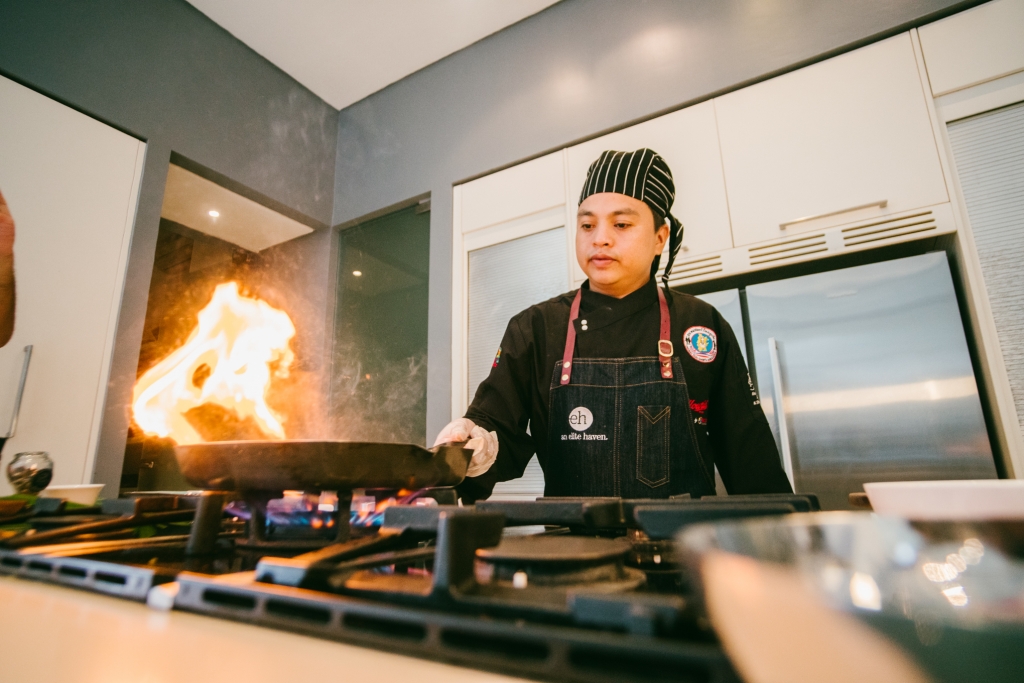 EH: What did you prepare for us today?
VCT: Thai beef salad, crab meat in yellow curry, and crispy pork.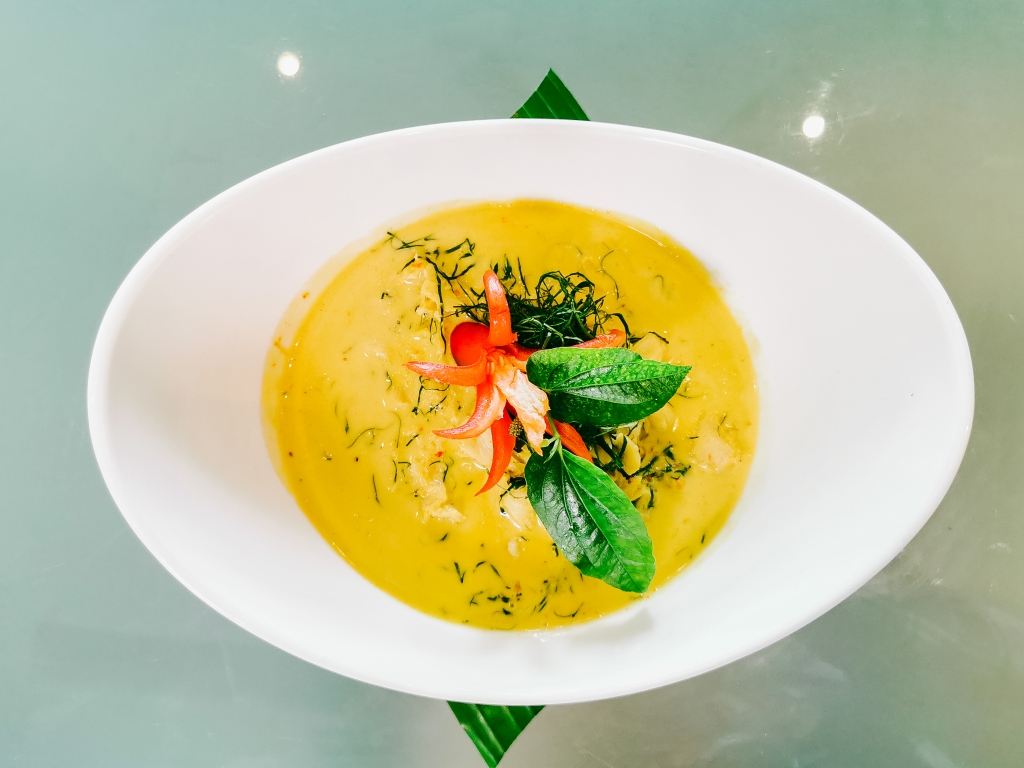 EH: Why did you cook these dishes for us today?
VCT: These are our most requested dishes. Our villa guests usually ask me to prepare these.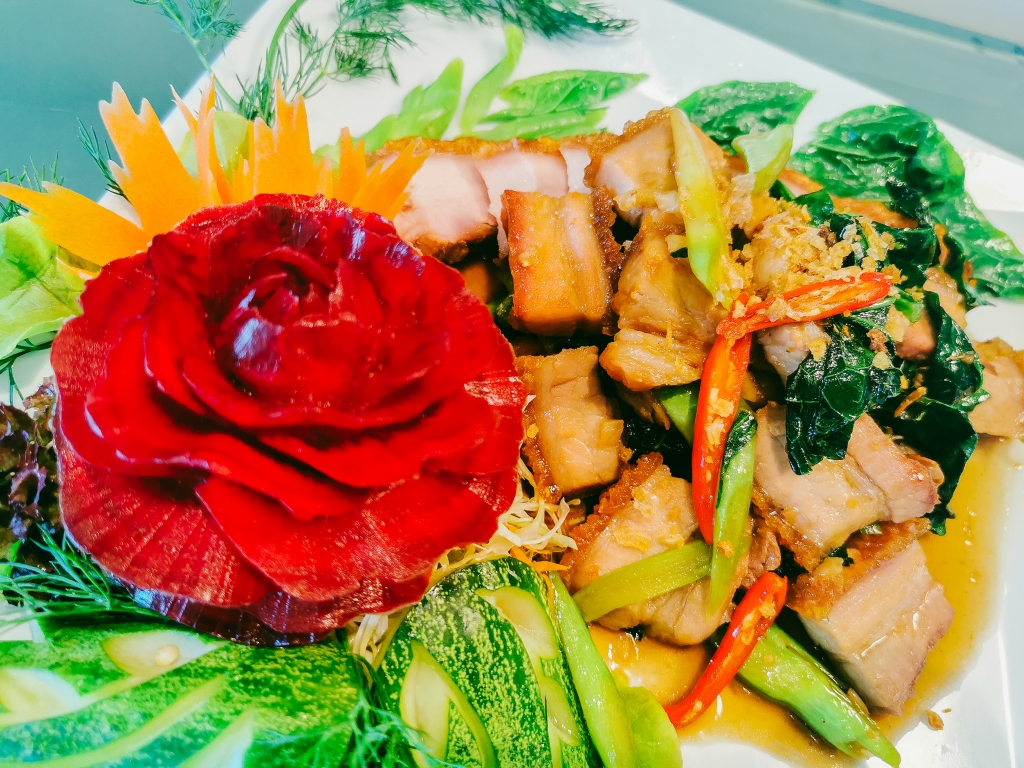 EH: Are these your specialties?
VCT: In addition to these dishes, my specialty is actually fusion food. Usually when you go out, you will see things like prawn or chicken Pad Thai but I like to make scallop Pad Thai. It's not traditional. We don't really have scallops here, we have to import them. So when people serve scallops here, they're usually just sauteed with garlic and pepper. But me, I like to cook them Thai style, so I use them in Pad Thai instead of prawns.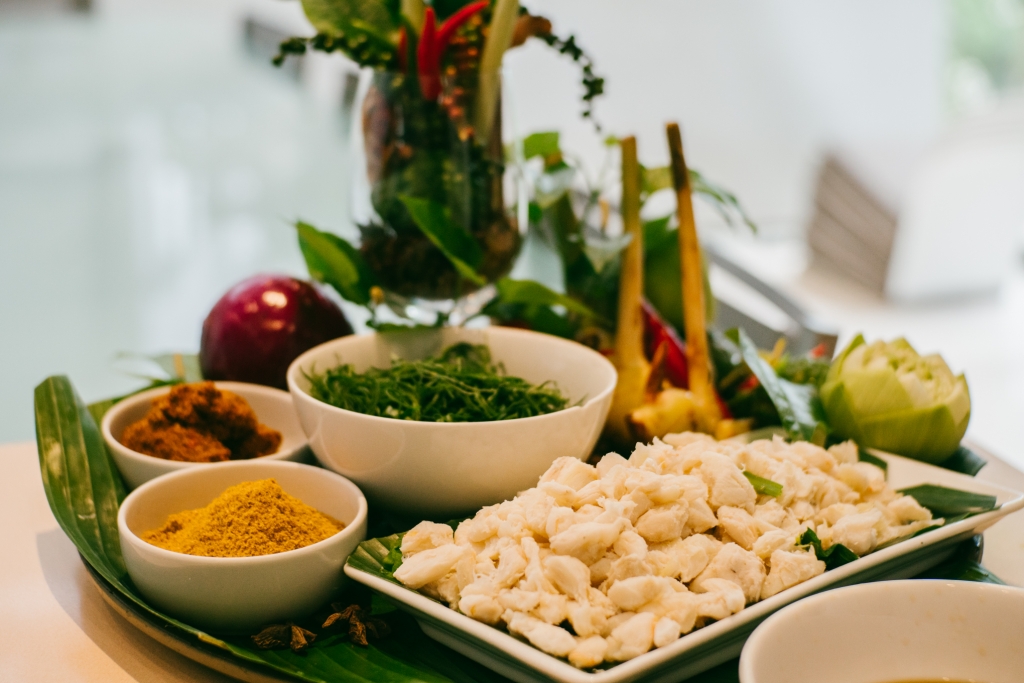 EH: What do you do in your free time? Do you eat out?
VCT: I like to fish and I like to look for fresh ingredients and then I like to go home and make new dishes for my family. And if I make something good, I can recommend it to the guests.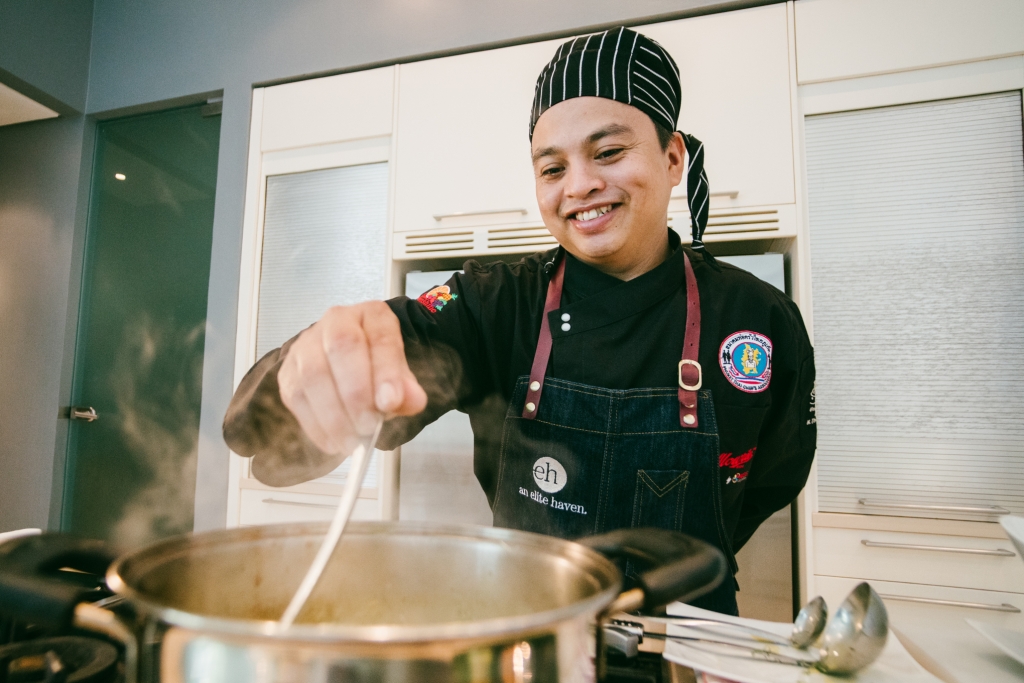 EH: Why do you think that good food is important for our villas?
VCT: When the guests come to stay here and they see beautifully plated food and try delicious food, they can take pictures and post these pictures on social media.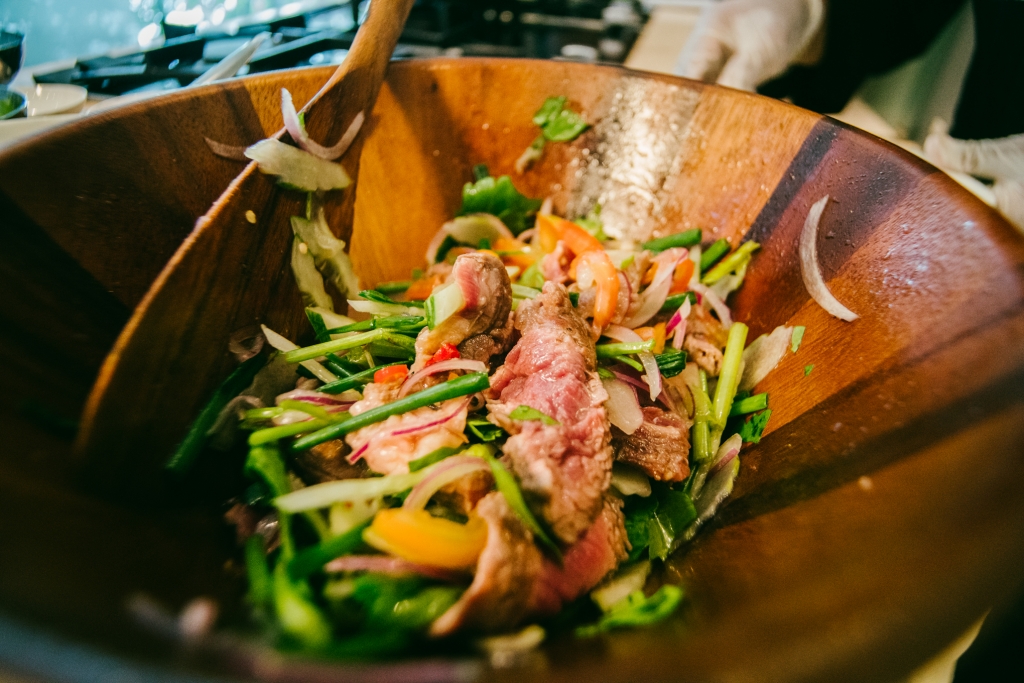 EH: What do you think makes a good cook or chef?
VCT: First of all, you have to love what you do. This love will come out in your work. You should also have an open mind so you can learn new things and improve your skills, don't just stick to what you know. So you can learn from another chef or you can research to learn new things.
Thai Beef Salad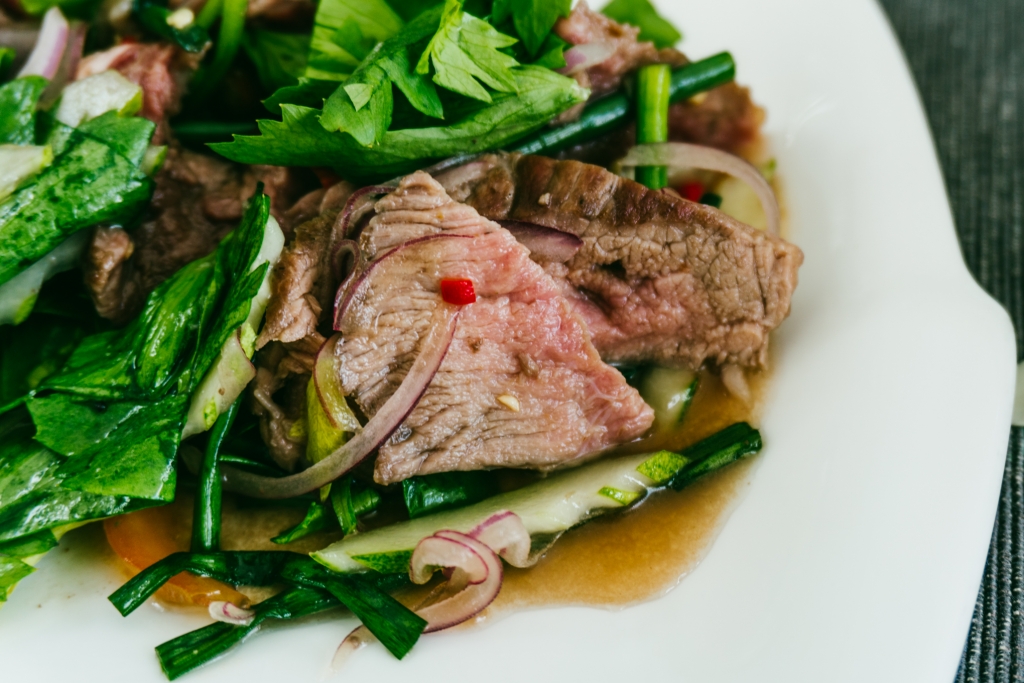 Ingredients
Beef 500 g
Tomato 50 g
Cucumber 70 g
Shallot 20 g
Celery 20 g
Spring onion 20 g
Chili 10 g
Pepper 10 g
Garlic 10 g
Olive oil 2 tbsp
Lime juice 2 tbsp
Fish sauce 2 tbsp
Palm sugar 2 tbsp
Instructions
Step 1. Marinate meat with salt, pepper, garlic and olive oil for 1 hour
Step 2. Preheat BBQ grill or char griller pan on high. Cook steak on grill for 2-3 minutes each side for medium or until cooked to your taste. Transfer to a plate.
Step 3. Mix lime juice, fish sauce and palm sugar together in a large bowl.
Step 4. Then add tomato, cucumber, shallot, chili, celery, spring onion into a bowl, thinly slice steak across the grain and add to the salad drizzle with remaining dressing and gently toss to combine divide salad among bowl and ready to serve.