Easter is one of those rare occasions which are as much fun for adults as they are for children. The best part about this holiday? It's tradition to feast on desserts, and especially chocolates.
We're always game for dessert, so we rung up two of our favourite villa chefs in Thailand and asked them to leak their best Easter dessert recipes for our readers. After a lot of cajoling, we are happy to report that we emerged successful!
The Chefs
Chef Tum who serves delicious food to guests at Villa Amanzi Kamala in Phuket has been an Elite Havens villa chef for almost four years, while Chef Max of Baan Puri in Koh Samui has also been with us for three years and counting. "We love cooking and coming up with new recipes for our guests. We enjoy every moment in the kitchen as being able to cook brings us joy. We believe that good food makes people happy," they shared joyfully when asked about their favourite part about this job.
Stunning villas as inspiration
Giving inspiration to every skilled chef is a magnificent villa with facilities that the best chefs dream of. Villa Amanzi Kamala is a breathtaking, designer haven, artfully installed on a hillside near Kamala Beach. It boasts six bedrooms, a shimmering 15-metre pool and exceptional living areas with spectacular sea views, ideal for a tranquil holiday with family and friends. Not to be outdone, Baan Puri is a tasteful and classy abode infused with Thai motifs, located on one of Koh Samui's most scenic beaches. It has six sumptuous ensuite bedrooms, where attention to detail never fails to impress, a rectangular infinity pool, an indoor cinema and poolside bar. And don't forget about the scenic Villa Solana that seamlessly blends indoor and outdoor luxury. This haven features a dazzling infinity pool, a clifftop circular sala, and elegantly appointed bedrooms with opulent bathrooms. Of course, these three villas are fully staffed to cater to all of your needs.
Best-loved dishes
We asked the chefs which two dishes do the guests come back for. They smiled in unison and had an answer ready, even before we could finish the question. Chef Tum picked the famous Thai dessert, mango sticky rice, while Chef Max went savoury and said that seafood and sushi are his most popular dishes amongst guests.
Easter Recipes
Back to Easter sumptuousness, the two chefs gave us their favourite Easter recipes for you to try at home. Have fun making these for your family!
Recipe 1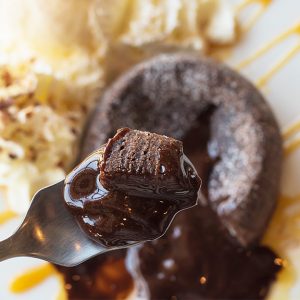 Chocolate Lava Cakes
Ingredients
100

g

unsalted butter

100

g

dark chocolate

2

whole

large eggs

2

egg yolks

100

g

sugar

100

g

all-purpose flour

salt
Instructions
Pre-heat the oven to 450 degrees Fahrenheit.

In a double boiler, over simmering water, melt the butter with the dark chocolate. In a medium bowl, beat the eggs with the egg yolks, sugar and salt at high speed until thickened and pale.

Sift the flour into this mixture and gently stir to combine into a batter.

Transfer the batter to a resealable plastic bag. Snip one corner of the bag with scissors to create an opening.

Arrange the ramekins in a casserole dish.

Generously coat the inside of the ramekins with melted butter and pipe the batter into them.

Bake in the preheated oven for 8-9 minutes.

Remove from the oven and let them sit for 2-5 minutes to allow them to cool slightly.

Loosen the edges from the ramekin with a knife. Invert each cake onto a plate and dust with powdered sugar. Enjoy with a scoop of vanilla ice cream.
Recipe 2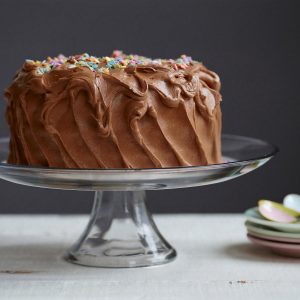 Cocoa Sponge Cake
Ingredients
175

g

sugar

100

g

cake flour

50

g

cocoa powder

100

g

couverture sweet chocolate

175

g

unsalted butter,

melted

5

large eggs

1

tbsp

baking powder
Instructions
Sift or combine together the flour, cocoa powder, and the baking powder together.

In a separate pan, melt the butter.

For easy cleanup and removal of the cake, line the baking pan with foil and spray with non-stick spray.

Pro tip: Wet the cake strip and fasten it around the bottom of the cake pan. This will guarantee an even rise, without a dome. Our chef has been using the cake strips for years now and all the cakes come out perfectly level.

Whisk the eggs until foamy, then add the sugar and continue whipping for about 15 minutes.

Add the flour mixture a tbsp at a time, and fold it in carefully. Next, add the butter and fold it until completely incorporated.

Pour the batter into the baking pan and swirl the pan quickly back and forth a couple of times to even out the batter.

Bake in a preheated oven at to 350 degrees Fahrenheit, in the centre of the middle rack for about 25 minutes or until a toothpick inserted in the middle comes out clean. Do not open the oven sooner than 15 minutes into the baking process. Shut the oven door slowly, not to disturb the rise of the cake.

Once the cake is baked, remove it from the oven and allow to sit inside the pan for 5 minutes.

Then, invert the cake straight onto the cooling rack, peel off the foil or parchment paper and allow to cool completely before cutting.
No matter how creative you get with your Easter menu, it ain't Easter without chocolates. We hope you have a joyful one, surrounded by love wherever you are.