Koh Samui has an array of dining options for you to venture to, combining the local ingredients and traditions of authentic Thai cuisine with contemporary culinary techniques and some of the island's most scenic locations. If you want to try fresh local seafood or you are a steak lover, or even if you are making sure you live a fresh organic life there is something for everyone on Thailand's third biggest island, Koh Samui.
1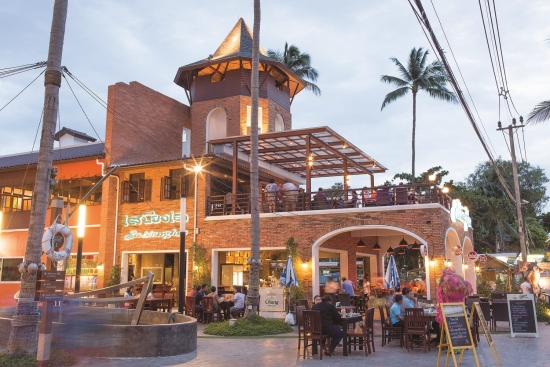 Sa Being Lae Restaurant is one of the most well known and established restaurants in Koh Samui that serves mostly Thai seafood dishes. They offer traditional fresh seafood in a classic Thai style.
Owned and run by Mr.Amnart and his wife the restaurant has been open since 1990, they have strong family connections to the local fishermen, and everything that is sold here is fresh off the boat each day, with absolutely nothing being kept to sell-on again tomorrow.
The range of fish to chose from is extensive and the southern Thai cuisine is characterized by the number and variety of curried dishes on the menu. If you have a sweet tooth the kluay buad shi (bananas in sweet coconut milk) can't be missed. Unlike other seafood restaurants in Samui, Sa Being Lae is affordable and might come in under B1,000 for two.
+66 081 538 7045
2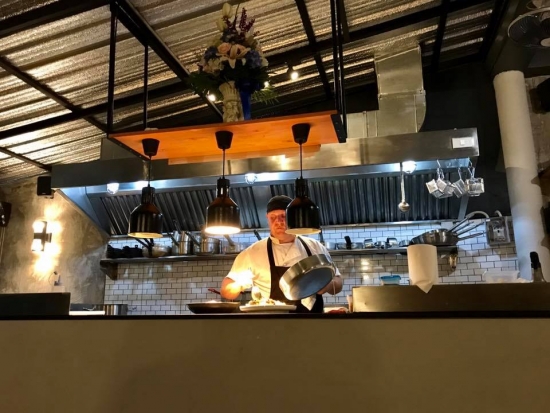 2 Fishes
ITALIAN AT FISHERMAN'S VILLAGE
2 Fishes is a brand new fine dining Italian restaurant which offers a range of traditional and modern dishes. The Chef Leandro Panza has over 25-years experience working at some of the best restaurants around the world from London, Sydney, Singapore and Melbourne.
The team are very inspired to use fresh local produce and mix these with classic ingredients imported from Italy. 2 Fishes is a warm and welcoming restaurant with professional staff and a great open kitchen so you can watch the chef make the handmade pasta and the classic homemade Italian Desserts.
2 Fishes offers friendly, hospitable service and a top-notch menu, and we didn't even mention the amazing signature cocktails and fabulous wine list. They are located in the heart of Fisherman's Village.
OPEN FROM 18:00 (Closed Mondays)
+66 0992 819 973
3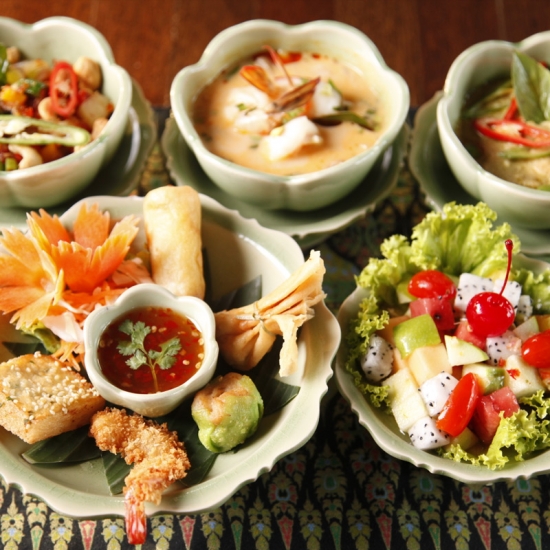 Krua Bophut
THAI RESTAURANT ON THE BEACH
(IT'S OUR COVER IMAGE)
Krua Bophut is an authentic Thai restaurant located in the beautiful Fisherman's Village on Bophut Beach and is surprisingly one of the few Samui restaurants that specialize in traditional local cuisine, served in a lovely traditional Thai-style setting. The royal Thai design of Krua Bophut is decorated by wood carving with almost the feeling of an antique Thai house.
The restaurant is located on the beach so you are able to enjoy the authentic Thai and Southern Thai cuisine while you sit under the stars with your feet in the sand which makes Krua Bophut one of the most romantic restaurants in Koh Samui.
As with many of the Thai restaurants on Koh Samui there is a range of seafood on offer, but they also offer meat and non-meat traditional Thai food but overall the menu is limited but very well prepared.
OPEN 13:00 – 24:00
+66 0 7790 2888
4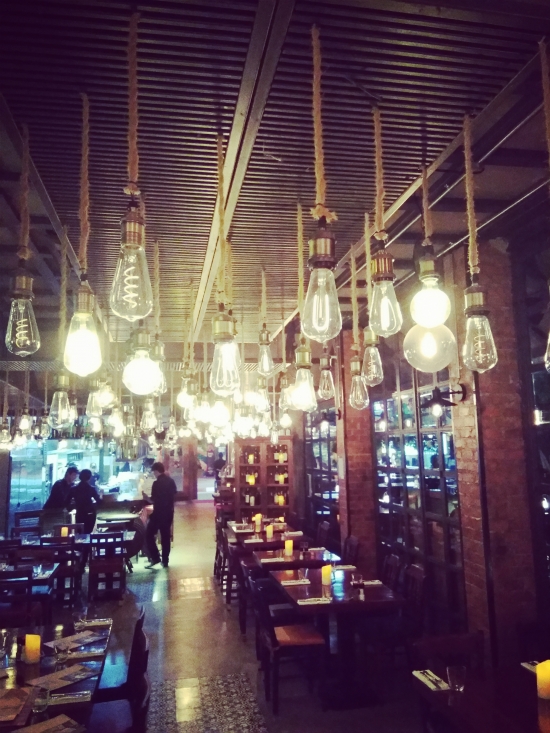 El Gaucho
SAMUI STEAK RESTAURANT

The one-floor open space of El Gaucho restaurant combines the traditional Thai look with the El Gaucho steakhouse look. The restaurant is retro and modern in a mix of intricate detail and sophisticated simplicity.
If you love steak then this is truly the place to go on Koh Samui as they are fantastic, and they have a huge wine list as well as very good service. The signature caramel vodka after dinner is also a nice treat and also will help with your hangover the next day.
You can choose which ever cut of steak you like and what type of beef you prefer, and then as many or as few sides as you like.
El Gaucho is expensive but for a special occasion or if you are just a steak connoisseur then it's a must restaurant to visit when in Koh Samui
OPEN 17:00 – 24:00
+66 0625 939 668
5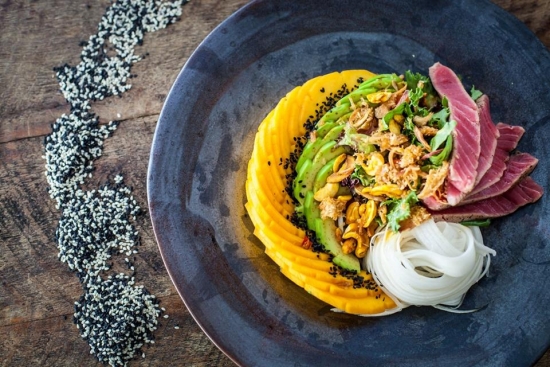 The philosophy behind Life Café is that food is part of a cycle that begins with honest origins. The food at Life Café is fresh and delicious and although their organic garden is only in its infancy they use as much home-grown produce as possible, with all the other brought in ingredients also being organic.
They have formulated a signature cuisine, combining healthy ingredients with pure indulgence for you to savor while enjoying the breathtaking views from the terrace. The location is stunning and is arguably one of the best viewpoints on Koh Samui, it is picture perfect at any time of the day.
Life Café serves a wide variety of food styles to suit different dietary needs; they offer vegan-friendly, international, fusion, western, raw and non-vegetarian dishes. The food is naturally delicious and beautifully prepared.
OPEN 9:00 to 22:00 (Go around 5pm to enjoy the best colors during sunset)
+66 062 4352 232
6
Sweet Sisters
SIZABLE SALADS AND SPICE TOO

Bright, airy and inviting, charming, and cozy and with an enticing interior, this roadside cafe down in the quiet south of Koh Samui welcomes all diners in search of healthy and tasty fare. Chef Noi only uses the best fresh, seasonal, local and organic items and even grows some of the produce herself.
There is a variety of Thai and Thai fusion dishes available on the menu, with many of the items being vegetarian or vegan. The food is tasty and the portion sizes are rather generous with some of the highlights being the amazing Thai salads, which can be a little spicy.
OPEN 09:00 – 21:00
+66 086 470 8631
7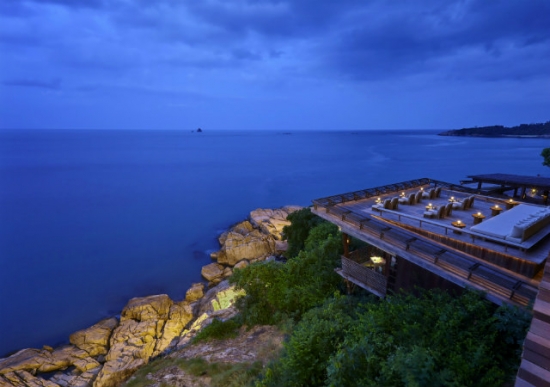 Located at the Six Senses Resort Dining on the Rocks has the reputation for serving some of the best food on Koh Samui. The fusion cuisine encompasses both regional and international dishes and you can be sure that there is an emphasis on sustainable and organic produce, of which some comes from their own garden.
The ideal time to visit Dining on the Rocks is just before sunset, where you will be able to really appreciate the scenery of the restaurant's atmosphere. This restaurant takes pride in its stunning 270-degree view of Samrong Bay and features an intricate work of platforms and terraces, all linked together by luxurious walkways.
You will find familiar Asian favorites on the menu that have been tweaked and given a new twist to give food lovers an original yet exciting taste. The wine list is exhaustive and their cocktails are very well prepared. Dining on the Rocks is a fascinating restaurant where guests can experience a new way of dining under the stars
OPEN 12:00 – 23:00
+66 077 245 678