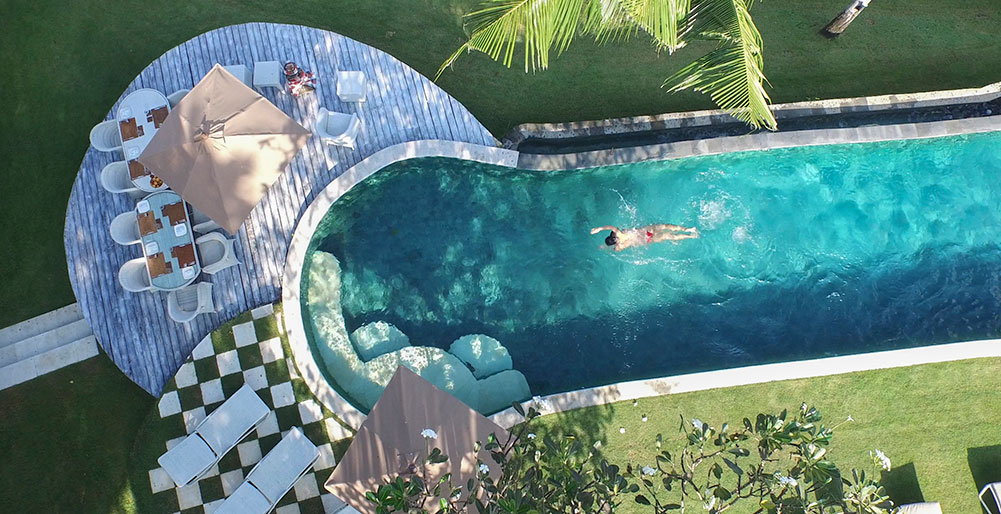 Elite Havens' villas come in many shapes and sizes. That they are all luxurious homes in some of Asia's most prized locations, brimming with first-class facilities and tended to by a caring team of staff, goes without saying, but beyond that, each and every villa has its own distinctive character. Many are the fulfilment of their owners' dreams and have interesting stories attached to their creation. 'Through the Keyhole' takes a peek behind the scenes and chats with some of our villa owners to find out how the dream became a reality.
Sungai Tinggi Beach Villa owners tell us about their stunning oceanfront home on Bali's south-west coast.
How long have you owned the villa?
We built it over 15 years ago, when I was engaged in developing a wide range of luxury residences throughout Bali for expatriate families. We needed a show villa to demonstrate our design and exhibit the wide range of construction materials available in Indonesia. We had already been living in Bali for over 10 years and it had taken that long to find the perfect location. There were obstacles to overcome regarding the land purchase, but we now own close to 12,000 sqm of beachfront land.
Can you share your insights on the design and construction process with us?
My company was involved in the construction of the Four Seasons Jimbaran and the Nirwana Resort in Tanah Lot. We borrowed a lot of ideas from both of these resorts when we came to design and build Sungai Tinggi Beach Villa.
The design combines the best of Western and Balinese architecture and materials and is testament to what good design and careful choice of materials can produce. We've been gratified to receive many comments about how well the villa fits into the environment. It was an important consideration for us to maintain the surrounding natural beauty by careful choice of materials that blend with the ever-changing landscape. For example, the river mouth next to the villa can quickly change from a canyon to a lake; viewed at dawn and sunset it presents two completely opposing views. Design is paramount in such situations because to dominate an environment is to detract from Bali's natural beauty, which is what attracted us here in the first place.
What makes Sungai Tinggi Beach Villa unique?