While most cultures celebrate the new year with rowdy celebrations, revelry and fireworks, in Bali the dawning of a new year is ushered in with a unique day of silence, known as Nyepi.
This year, Nyepi falls on 22 March 2023 and for 24 hours shops and restaurants will stay closed, the streets and markets will remain empty, the beaches will be deserted and the waves un-surfed. Even the airport is shut down as Bali falls under a magnificent cloak of silence.
In order to understand Nyepi, is it necessary to briefly dip into the dualistic world of Balinese Hinduism which is woven into the very fabric of life on the island. Imagine a cosmic dance in which the forces of good and evil are in constant play. Order is represented by the gods, known as dewa and dewi, while disorder is represented by the earth demons known as bhutas and kalas.
Balance must be maintained so that evil doesn't get the upper hand. Through a myriad of religious offerings and rituals, the gods are thanked and asked for blessings, while the forces of darkness who seek to upset the equilibrium are appeased. Of all the ceremonial days on the island, Nyepi is one of the most important.
Why the silence?
Theological explanations vary. Some say that by staying hidden the evil spirits will think the island has been abandoned and will pass by, thus bringing an auspicious start to the new year. But Hindu scholars say that the noise and revelry of the preceding evening, Nyepi Eve, wakes up the demons so that they will see the offerings, including blood sacrifice that have been laid out for them. In this view, the silence is a symbol of contentment and gratitude that the demons have been appeased for another year. Regardless of theological explanations, Nyepi is a day reserved for quiet contemplation and self-reflection and Balinese Hindus are prohibited from work, entertainment, travel and lighting fires. Priests and those with a higher spiritual calling will also fast, observe total silence and pass the day in prayer.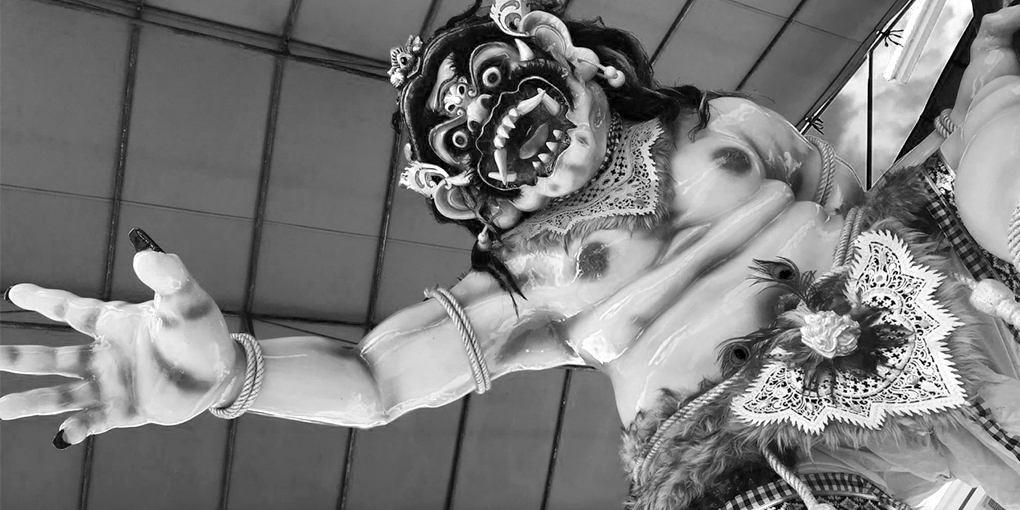 How does Nyepi affect visitors to the island?
Even tourists must respect Nyepi and stay within the grounds of their accommodation and keep noise and lights to a minimum. But no problem, immersing yourself in the luxurious sanctuary of a beautiful villa with family and friends is the perfect way to pass Nyepi. Staff will still be on hand to cook your meals and you can enjoy the pool, the sunshine and all the villa facilities, much like any other day. In the evening with lights out across the island you will be amazed to see so many stars blazing in the sky, and you will be free to act as you wish inside the villa, whether playing around of pool, watching a movie on Satellite TV, or listening to music.
Processions and Parades
Nyepi is a wonderful time to be on the island as the day of silence is ushered in by a number of beautiful rituals and colourful celebrations, so make sure to have your camera handy when you are out and about. Melasti is a cleansing and purification ceremony that takes place in preceding days. Long, colourful processions wind through the streets with people carrying sacred objects and effigies of the gods from the temples to the ocean (or river.) People bathe with the deities, in a symbolic cleansing of body and soul and to receive the blessing of the God of oceans.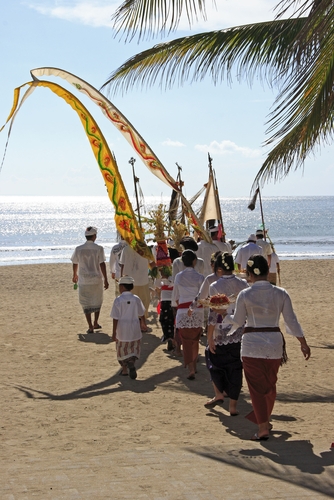 Nyepi Eve is a time of great revelry and by late afternoon the island is imbued with a carnival-like atmosphere. Ogoh-ogoh − giant scary monsters, complete with fangs, bulging eyes and crazy hair are carried through the street and people bang cymbals, pots and pans and wave flaming torches in order to chase away the bad spirits.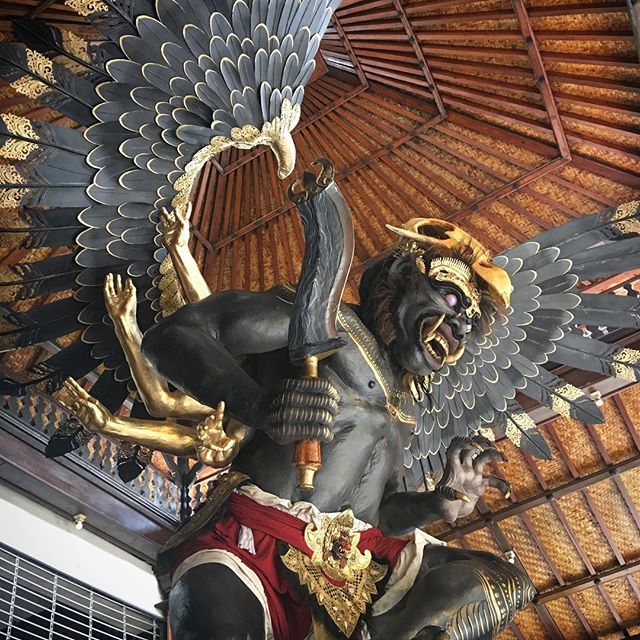 With evil neutralized, bodies and souls purified, and the gods thanked, everything is deemed to be in perfect balance and the Balinese retreat indoors. This quiet day is a time of rest and regeneration, but the silence is fleeting. The following day is known as Ngembak geni, literally 'relighting the fire'.
Where to stay for Nyepi
The Layar is a luxury villa designer estate in the heart of Seminyak, with high-spec interiors, one to four bedrooms, private pool and garden, plus boutique hotel support.
Soak up the silence and superb ocean views with absolute beach frontage at 6-bedroomed Noku Beach House, including a 27-metre pool, six-star staff and sprawling indoor/outdoor entertaining spaces, a spa and sunset rooftop terraces.
Far removed from mainstream tourism, and resting upon a hillside overlooking a beautiful bay near Candidasa in east Bali, 4-bedroomed Villa Asada is blessed with a spellbinding coastline view.
Revel in the lush tropical landscape at 4-bedroomed Villa Alamanda, designed to harmonise with the environment. The villa, pool and gardens all benefit from dramatic views over the Petanu river gorge and soaring forest canopy and offer guests complete relaxation and serenity.
Sanur/Ketewel

Enjoy the sophisticated sanctuary of 5-bedroomed Villa Samadhana, located in the sleepy seaside village of Ketewel on Bali's south-east coast, the villa's ocean views, 25m pool, entertainment lounge and a full complement of staff is sure to impress.
A private eden awaits at 5-bedroomed Villa Zelie, a heritage villa filled with handcrafted furniture and ancient treasures, set amidst gorgeous gardens.
The Bukit

You will be so enamoured by the exquisite clifftop views at 9-bedroomed Sohamsa Ocean Estate, you won't ever want to leave.
Revel in Bali's culture and get to know more about this enchanting island. Do so at your own pace and luxuriate in one of our private villas.