With its vivid blue sea, white sand beaches and fiery tropical sunsets, Phuket is amongst the world's most favoured wedding destinations. Aside from its breathtaking natural beauty, this Thai island is home to a rich and friendly culture, incredible cuisine and some outstanding villa venues offering expert hospitality and exquisite locales for saying, "I do".
You've found true love and you're ready to commit to each other. What better way to celebrate the start of this grand adventure than with a Phuket wedding? For couples bound by love tinged with wanderlust, tying the knot in a tropical paradise offers an enticingly exotic way to launch into a journey of wedded bliss.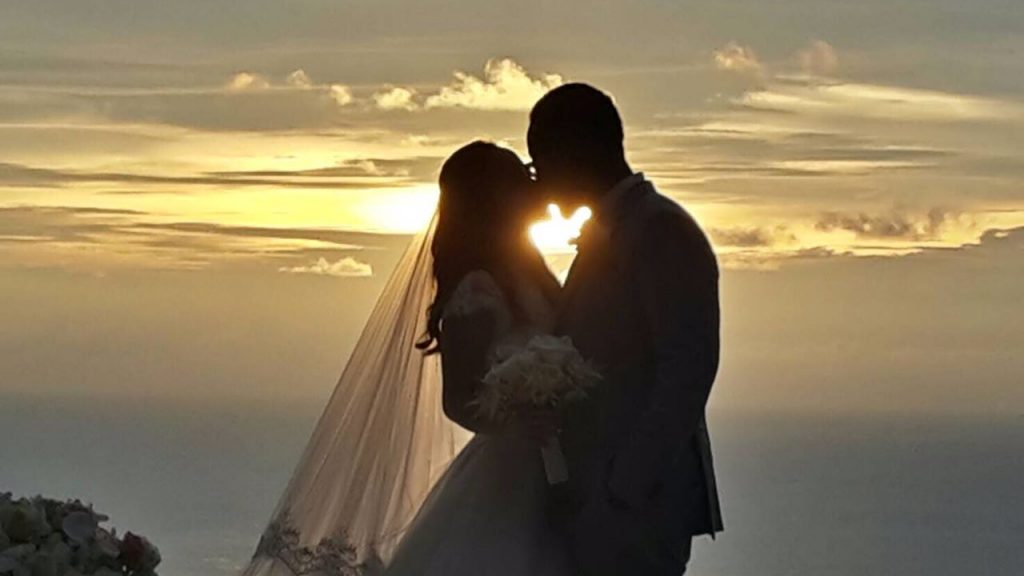 Malaiwana's Villa Haleana
With its modern design and elegant furnishings, Villa Haleana is an ideal wedding villa for the stylish set. Enjoy magical sea views from its hillside setting, with Nai Thon Beach just below, perfect for taking in the sunset or going for a stroll. Located within the secure Malaiwana Estate, Villa Haleana is perfect for weddings and large celebrations, with the option of accommodating the entire wedding party in neighbouring and equally luxurious villas and residences. Found along the lesser-travelled northwest Phuket coast, between the airport and the touristy part of town, it is situated along a quiet stretch, yet walking distance from restaurants, local stores and bars.
Absolute heaven awaits with an 18-metre pool, large pool terrace, lavish spa room, gym, and multiple areas to dine, relax and entertain. Effortlessly elegant, yet warmly welcoming, all six bedrooms offer stunning sea views. Villa Haleana can host up to 80 guests for an event.
First-hand account of a Villa Haleana bride:
On April 16, 2019, we hosted an amazing wedding in Phuket, with our beloved friends and families. It took eight months of preparation, with a lot of ups and downs leading up to the wedding day. Mother Nature added an element of fun, as it started raining during our outdoor wedding. But The Bridal Planner Team consistently supported and helped us throughout the planning process. What could have been a disaster, turned into one of the most memorable weddings ever! Our friends and family loved every moment of the indoor entertainment.
-Debbie Lee
Jivana Beach Villa Estate
The exclusive Jivana Beach Villa Estate comprises of three luxury villas, set along the pristine sands of Natai Beach in Phang Nga. Sprawling, beautiful gardens face the beach, offering a delightful venue for the picture-perfect wedding you've always wanted. Coconut palms are scattered around, and 25-metre pools, bar areas and beachside salas complete the look. Each villa is private, but if booked together, guests can easily stroll between them by taking a few steps along the beach. Together, these three six-bedroom villas offer 19 ensuite rooms, sleeping up to 40 guests.
Weddings and special events with up to 150 guests (including residents) can be held at two of these villas. We can recommend expert event organisers, florists, decorators and caterers, so that you can focus on relaxing and celebrating this special day with your close ones.
Villa Saan
The modern, tranquil Villa Saan boasts a 19-metre pool with an integrated jacuzzi, eight spacious bedrooms, a sumptuous home cinema, games room with a pool table, gym with spa facilities, and elegant living and dining areas. Its fabulous indoor and outdoor areas are perfect for entertaining—think the height of tropical chic living, with works of art, décor and furnishings in sleek white, green and blue, Asian artefacts and an elegant black chandelier.
Saan, which means 'peace' in Sanskrit, is a tranquil, modern space. This elegant home luxuriates over four levels on an exclusive hillside estate near Kamala Beach, and you'll be hard-pressed to find a venue more suited to weddings, what with its spectacular cathedral-like entrance and stunning sea views.
The villa can host events with up to 60 guests (including resident guests). The master suite includes a private plunge pool and sun terrace: indulgences perfect for the newlyweds.
Fret not, trying to make this day perfect. We will be happy to recommend local event organisers, florists, caterers and more, to complement Saan's experienced in-villa team.
Sava Beach Villas
Across the bridge that connects mainland Thailand to Phuket, lies a 10-kilometre stretch of near-deserted Natai Beach. Along this magical stretch of land, stand seven spectacular Sava Beach Villas, offering unbeatable beachfront venues for weddings and events.
The villas here range in size between four to seven bedrooms, each one featuring lavish living spaces, large lawned gardens and sea view event venues. Each villa has a distinct personality lent to it by its owner, some are all about wooden furnishings and local artefacts, while others display modern décor and contemporary art.
Sava Beach Villas are ideal wedding venues for making fantasy tropical weddings a reality. Imagine perfect skies, a white sand beach and a cool tropical breeze. The villas can be rented individually or in many combinations. Altogether, the seven Sava Beach Villas offer a total of 39 bedrooms, providing wedding guests with an enticing choice of accommodation.
A Sava Bride's Review:
We had our wedding at Sava Villas in Natai Beach and had booked out the entire estate of seven villas for four days, with 120 guests from around the world flying into Phuket. Out of the seven villas, we used five of them for different events and parties spanning over three full days. Each villa was decorated differently, depending on the event. We are not an easy group to please, and this was not an easy 3-day wedding to pull off, given the number of activities and the challenges of executing these events.
Chonlada, May and the rest of the team at The Bridal Planner (recommended by Elite Havens) were beyond creative, extremely professional, and gave us the flexibility and support to dream up a spectacular event. We gave them a theme, and they helped us style our wedding over and over again until we were 100% satisfied. Their commitment levels are high and response times are fast, whether by WhatsApp, email or Skype. When you work with them, you feel like you are their only client. When on-site and in front of our guests, they work quietly in the background, as if they aren't even there.
-Tracy Lai
Villa Amanzi Kamala
Artfully perched on the edge of a cliff, with endless sea views from the pool deck and living areas, Villa Amanzi Kamala is tailor-made for unforgettable weddings. Say your vows on the ceremonial platform on top of the infinity pool, which merges seamlessly into the blues beyond. There's plenty of space for elegant wedding dinners against dramatic sunsets on the pool deck and lawned terraces, while rehearsals and small-group pre-wedding cocktails are best organised in the open-sided pavilion set on a raised platform at one end of the deck.
Spread over three levels, maximising on its hillside location, Villa Amanzi Kamala is an exceptional event venue. The sound of waves crashing on the rocks below is a treat only a few villas in Phuket enjoy.
The villa can accommodate up to 40 guests (standing or seated) for the main function. Our events team will be happy to connect you with the best planners and organisers on the island, to make your day as special as it deserves to be.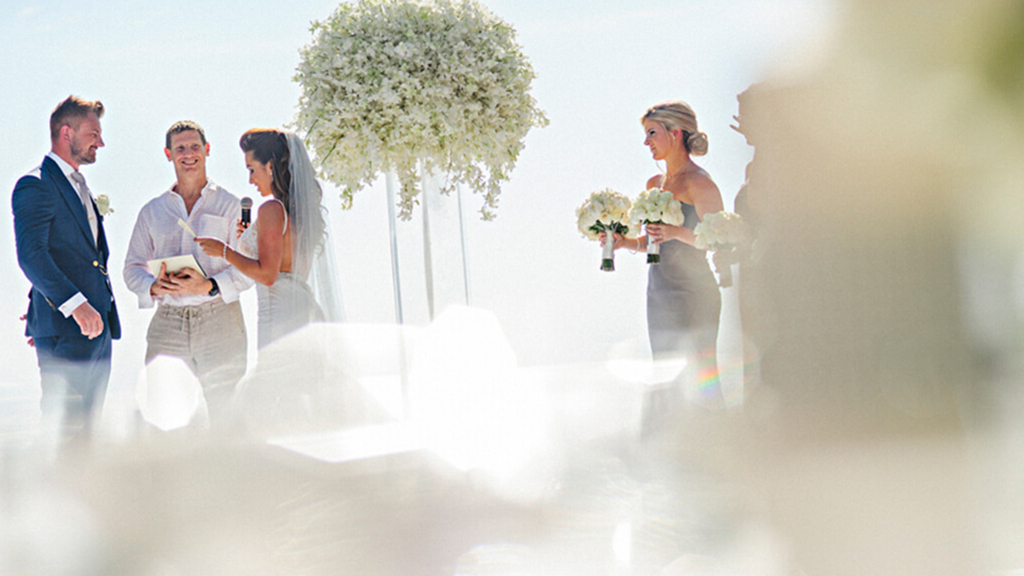 Plan an Elite Wedding in Phuket
Hold your wedding celebrations at an Elite Havens' wedding villa in Phuket, and you'll be assured of fabulous facilities and professional villa staff on-site, as well as access to the islands' best wedding service providers. Phuket has a number of talented wedding planners, florists, makeup artists, caterers, entertainers, photographers and more to choose from. The expert events team at Elite Havens works with a curated list of the best vendors – all dedicated to creating and capturing the most perfect wedding-day moments.
And don't forget about the 'destination' part of your destination wedding! Beyond the big event itself, there's plenty for couples and their guests to discover and enjoy around these island havens. Phuket offers diving, yacht cruises and island-hopping trips, and has a thriving nightlife scene. Soothing spa sessions, zipline adventures, surf lessons and Thai cooking classes are just a few of a huge range of activities to keep your wedding guests entertained during their stay. Your villa staff and the Elite Concierge will be happy to share suggestions on things to see and do.
Elite Havens' Country Manager for Thailand, Femke Beekers, offers an insider's tip, "An amazing time to hold your event in Thailand is the month of April. The weather is absolutely perfect and you can also celebrate the Thai New Year with us, called Songkran, a true water blessing festival."
To plan your wedding celebrations at the exotic island of Phuket, Thailand, contact us at events@elitehavens.com.
Thank you to The Bridal Planner Thailand for photos and testimonials.