Villa Zelie owners tell us about their unique private pool villa in Canggu, Bali.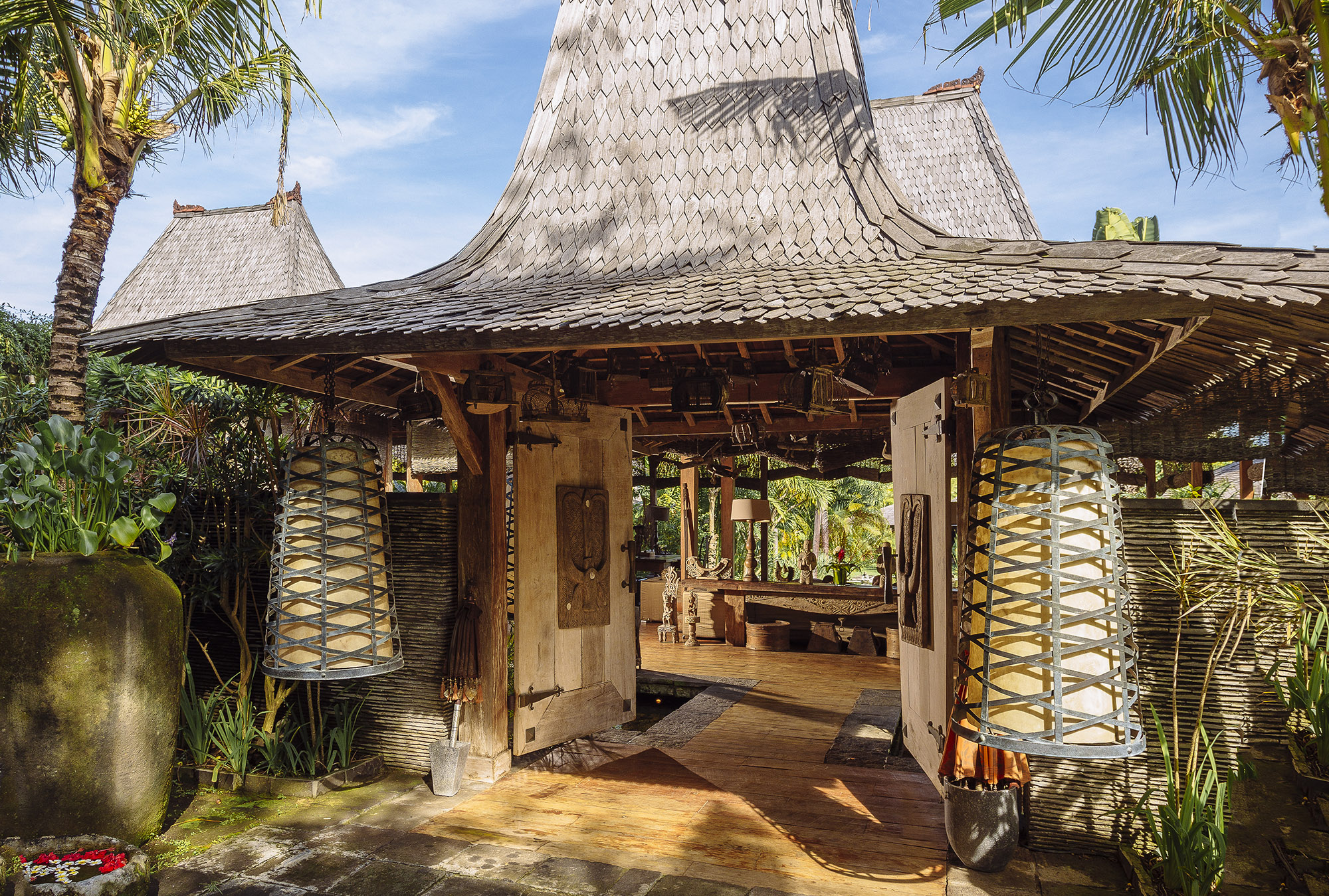 where stress is unknown.
People have described Villa Zelie as a private Eden or Heaven on Earth (and we agree!). How do you describe it?
It is a garden of Eden. Villa Zelie is a haven of peace and calm in the middle of Seminyak and Canggu. You forget about the world, the heat, the dampness, the noise and the traffic as you arrive at the villa. There is only peace and harmony there. That's why I do not hesitate, several times a year, to make this long trip just to relax a few days. There are only good energies at Zelie, where stress is unknown.
Les gens ont décrit Villa Zelie comme étant un Éden privé ou un paradis sur Terre (et nous sommes d'accord!). Comment la décrivez-vous?
C'est un jardin d'Éden. La Villa Zelie est un havre de paix et de calme au milieu de Seminyak et Canngu. Vous oubliez le monde, la chaleur, la moiteur, le bruit et la circulation dès que vous arrivez à la Villa. Là, il n'y a plus que calme et harmonie. C'est pour cela que je n'hésite pas, plusieurs fois par an, à faire ce long voyage juste pour venir me relaxer quelques jours. Il n'a que de bonnes énergies et le stress y est inconnu.

Where is your favourite place to relax at your villa?
I actually have two. During daytime, the pool house by the pool, from which you can hear the sound of birds and the rippling water. Simple pleasure but so relaxing. In the evening, the sofa in the living room, facing the garden, which is adorned with all its lights. I can watch this for hours, with a glass of wine, it's magic.
Quel endroit dans la villa est votre préféré pour vous détendre?
J'en ai deux. La journée, le pool house au bord de la piscine, vous écoutez le bruit des oiseaux et le clapotis de l'eau. Plaisir simple mais tellement reposant. Le soir, dans le canapé du salon, face au jardin, qui s'est paré de toutes ses lumières. Je peux regarder cela des heures, avec un verre de vin, c'est magique.

You clearly have a collector's eye. What can you tell us about the interiors and artwork Villa Zelie?
We wanted to build a house in the purest Balinese tradition with the most beautiful materials we could find on the island. We found old joglos in Jakarta, including one that is over 200 years old, which is now in the Master bedroom. We have worked with Balinese artisans for woodworking. We only wanted noble materials like silk. Each piece of art has been carefully purchased during our "promenades" around the island or were given by friends. We wanted everything to be harmonious.
Vous avez clairement l'œil d'une collectionneuse. Que pouvez-vous nous dire sur les intérieurs et les œuvres d'arts de Villa Zelie?
Nous voulions réaliser une maison dans la plus pure tradition balinaise avec ce que l'on pouvait trouver de plus beau sur l'île. Nous avons trouvé à Jakarta des vieux joglos, dont un à plus de 200 ans, qui est maintenant dans la Master. Nous avons travaillé avec des artisans Balinais pour le travail du bois. Nous ne souhaitions que des matériaux nobles comme la soie. Chaque pièces ou œuvres a été chiné au détour de nos promenades ou différentes adresses données par des amis. Nous voulions que tout soit harmonieux.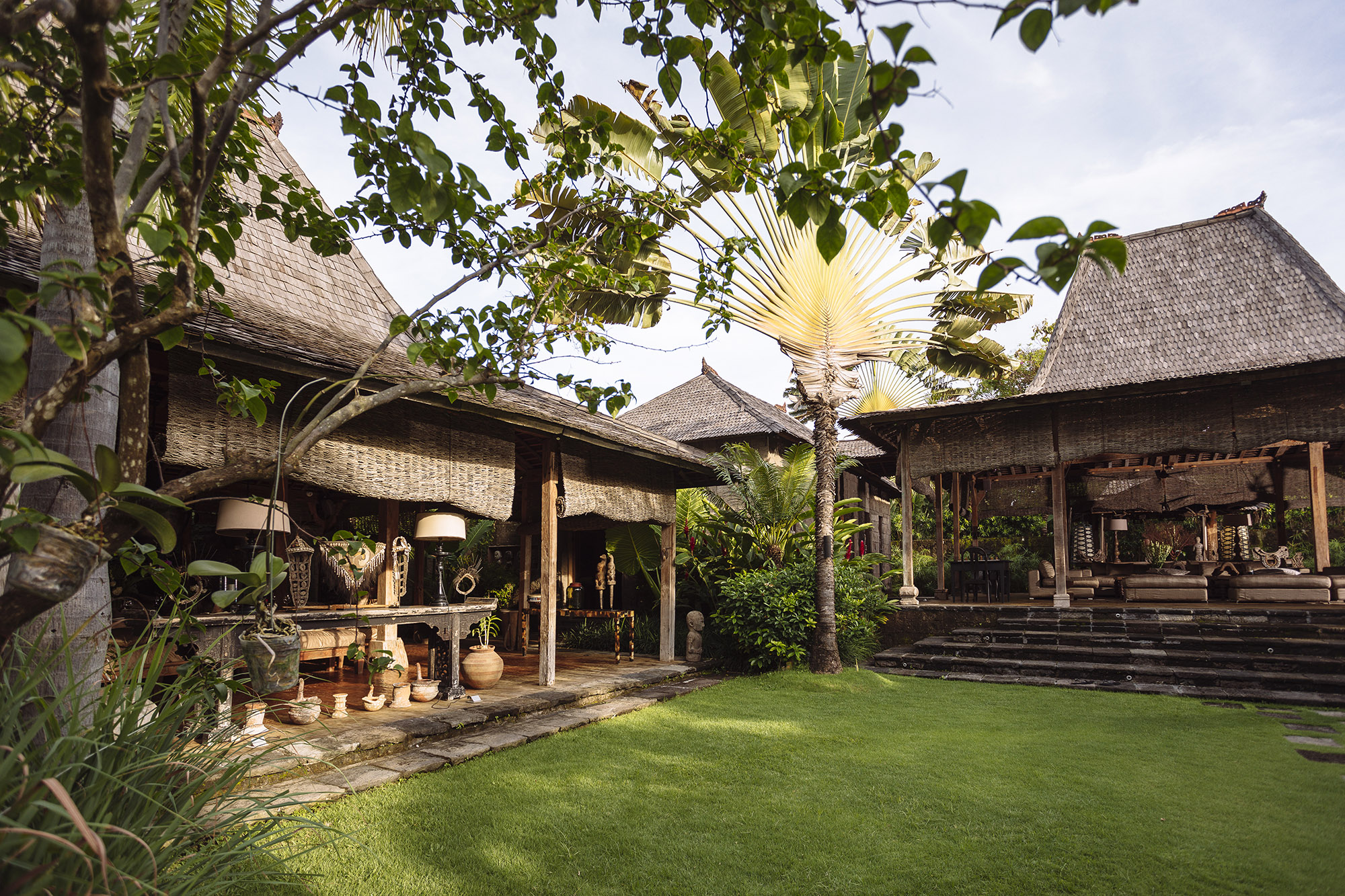 The grounds of Villa Zelie are beautifully terraced like the surrounding rice fields, and the sight of the swimming pool spanning the width of the property is stunning. How did you arrive at this unique layout?
The garden was indeed treated like a rice field, but it is the specificity of the ground that led us there. We wanted to have a good perspective of the living area from the garden and the pool. The garden has been designed to enhance the latter. Each gladak has its own terrace with very different points of view. And, it is indeed rare in Canggu and Seminyak to experience such a haven of tranquility and peace.
Les jardins de Villa Zelie sont magnifiquement aménagés comme les rizières environnantes, et la vue sur la piscine qui s'étend sur toute la largeur de la propriété est magnifique. Comment êtes-vous arrivé à cette disposition unique?
Le jardin a effectivement été traité comme une rizière, mais c'est la spécificité du terrain qui nous y a conduit. Nous souhaitions avoir une belle perspective du salon sur le jardin et sur la piscine. Le jardin a été conçu pour mettre en valeur cette dernière. Chaque gladak a sa propre terrasse avec des point de vue très différents. Et, il est effectivement rare en être Canggu et Seminyak d'avoir un tel havre de tranquillité et de paix.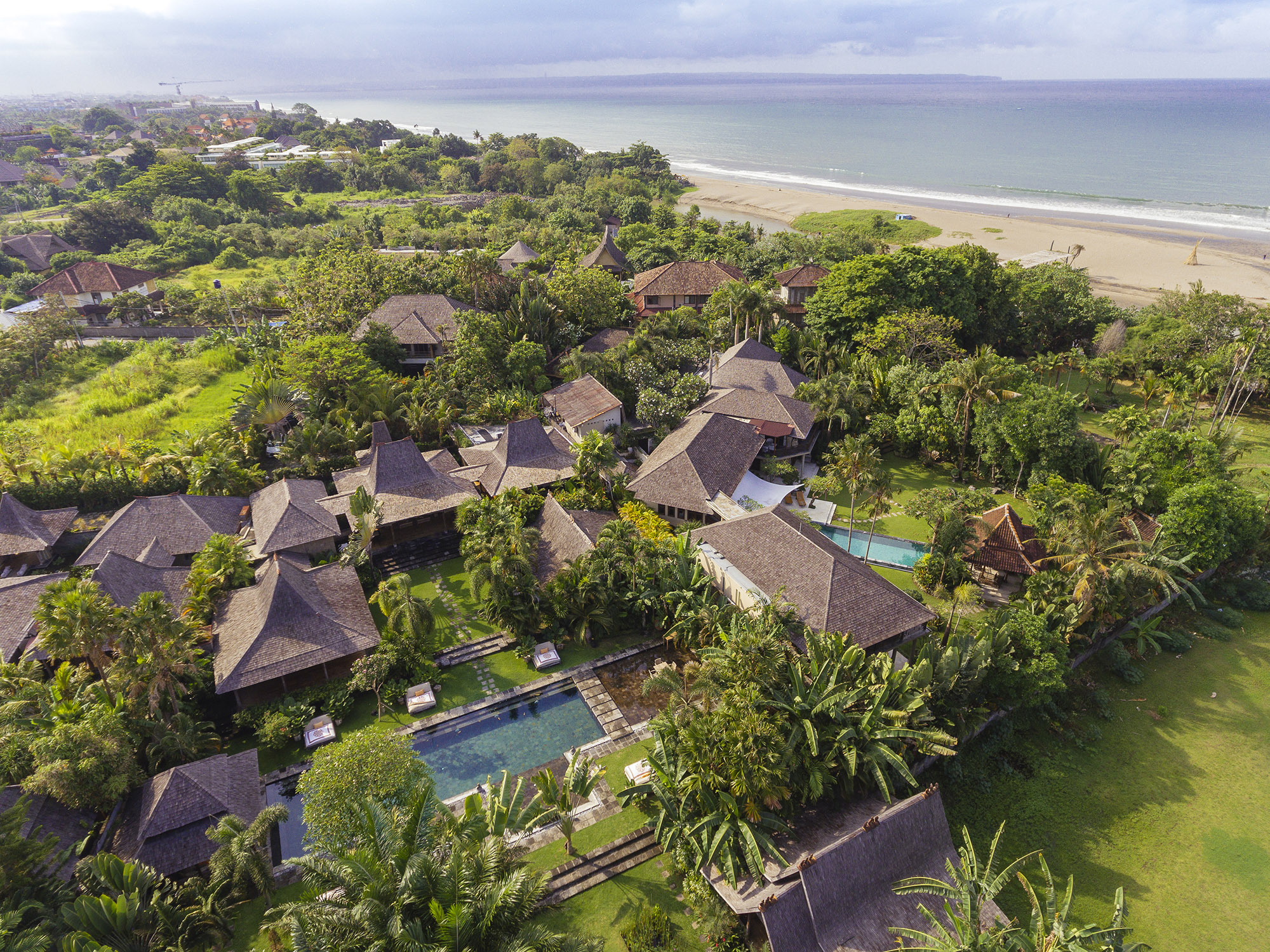 How did you decide on the location of Villa Zelie in Bali?
The choice of location is pure chance, we bought the land without ever being in Bali before. We had friends who had a house and offered us the land, and we wanted to make a big house to receive our children and our friends. It was bought and enlarged from another land. The adventure began.
Comment avez-vous choisi l'emplacement de Villa Zelie à Bali?
Le choix de l'emplacement est un pur hasard, nous avons acheté se terrain sans n'être jamais venu à Bali. Nous avions des amis qui avaient une maison et qui nous ont proposé le terrain d'accoté, nous souhaitions faire une grande maison pour y recevoir nos enfants et nos amis. On l'a acheté et agrandi d'un autre terrain. L'aventure commençait.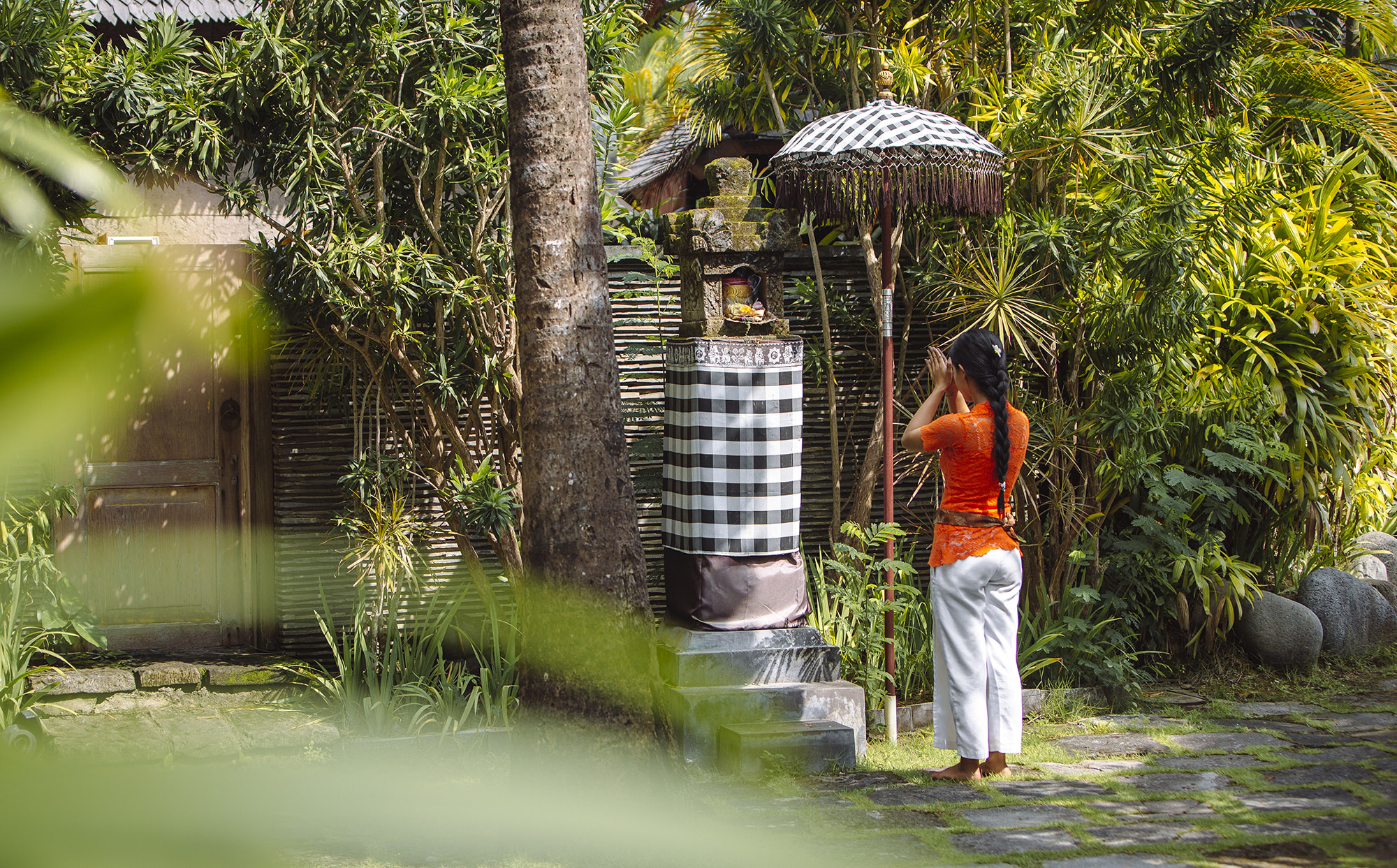 What was the most surprising aspect for you whilst building this villa in Bali?
Apart from all the technical aspect related to a wooden house, the Balinese's relationship to spirituality, chasing evil spirits, daily offerings, and blessing the land, building and inhabitants. Their relationship to time, but especially the kindness and devotion of the people who participated.
Quel a été l'aspect le plus surprenant pour vous lors de la construction de cette villa à Bali?
En dehors de tout l'aspect technique lié à une maison en bois, le rapport à la spiritualité qu'ont les Balinais, chasser les mauvais esprits, les offrandes journalières, bénir le terrain, la construction et ses habitants. Leur rapport au temps, mais surtout la gentillesse et la dévotion des gens qui ont participé.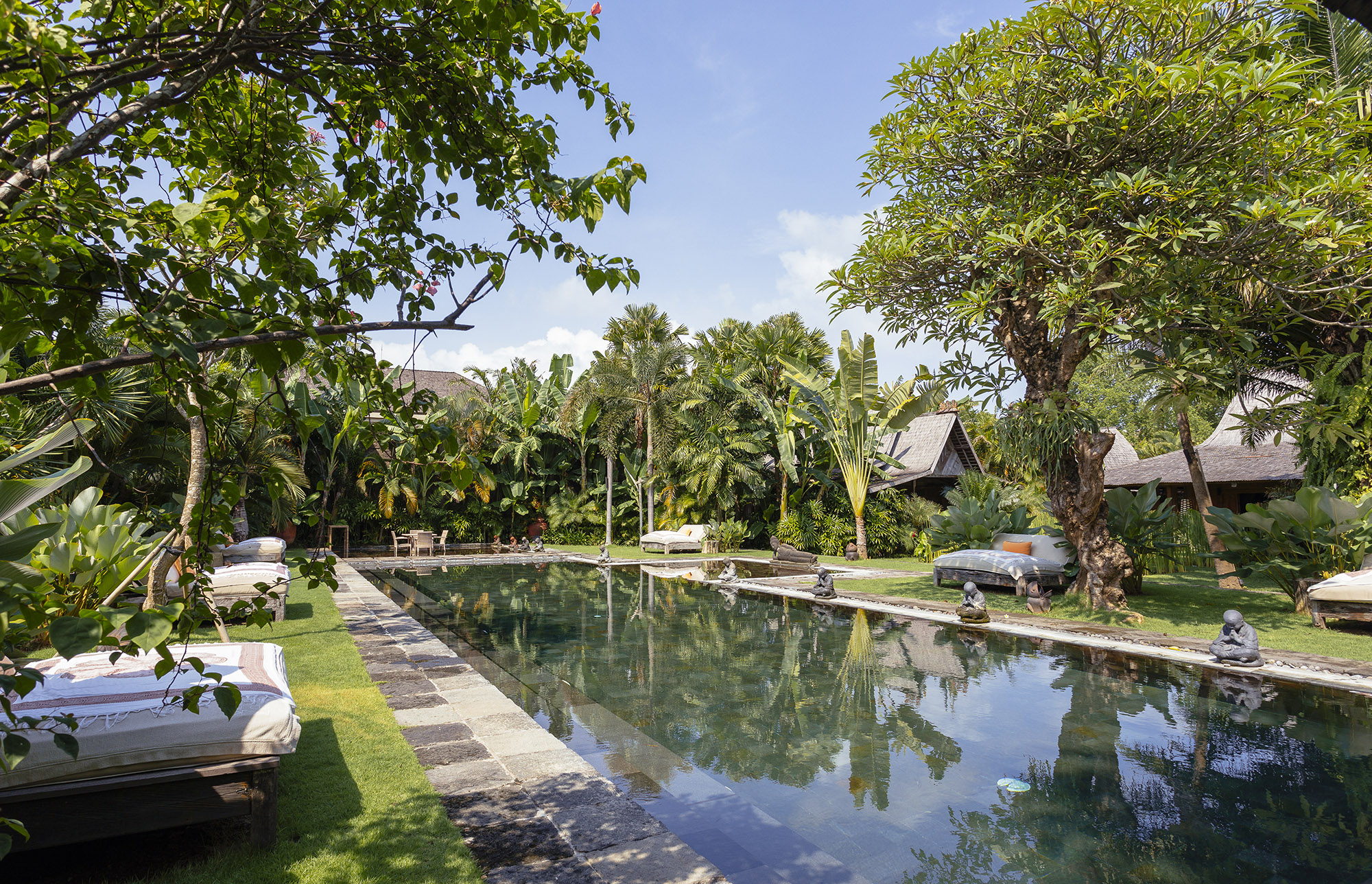 Assuming you enjoy free time now when you visit the island, what do you like to do outside Villa Zelie?
When we come on vacation to Bali, our priority is to take our time. You have a mind on this island that prohibits any form of stress. I wake up naturally, I swim, I go for a long walk on the beach. The children go to their surfing class which is on the beach, just 400 meters away from Zelie. We go for a long bike ride in the middle of rice fields. We enjoy the dishes of our Chef Made. We get massaged. The main agenda is to live at our own pace and let each day lead us where it may.
Lors de vos vacances à Bali, qu'aimez-vous faire de votre temps libre (au-delà de Villa Zelie)?
Quand nous venons en vacances à Bali, notre priorité est de prendre notre temps. Vous avez un esprit sur cette ile qui vous interdit toute forme de stress. Je me réveille naturellement, je nage, je pars faire de longue promenade sur la plage. Les enfants vont prendre leur cour de surf qui est à 400 mètres sur la plage. On fait de grande ballade à moto au milieu de rizières. On se régale des plats de nôtre chef Made. On se fait masser. Notre maitre mot est vivre à nôtre rythme, la journée dessine pour nous ou elle doit nous emmener.
Elite Havens' villas come in many shapes and sizes. That they are all luxurious homes in some of Asia's most prized locations, brimming with first-class facilities and tended to by a caring team of staff, goes without saying, but beyond that, each and every villa has its own distinctive character. Many are the fulfillment of their owners' dreams and have interesting stories attached to their creation. 'Through the Keyhole' takes a peek behind the scenes and chats with some of our villa owners to find out how the dream became a reality.