From its thriving yoga scene to its serene spa retreats, Bali is synonymous with wellness. The island's postcard-perfect scenery of lush green mountainsides and spectacular beaches make it the perfect setting to zone out while enjoying its blissful traditions of holistic healing.
To come to Bali and not have a massage would border on an insult to the island's age-old therapies. There's a reason why Balinese massage has made its way into top spas all over the world: it fuses together deep-tissue massage with aromatherapy, gentle stretching and light acupressure for a beautifully relaxing, holistic healing treatment.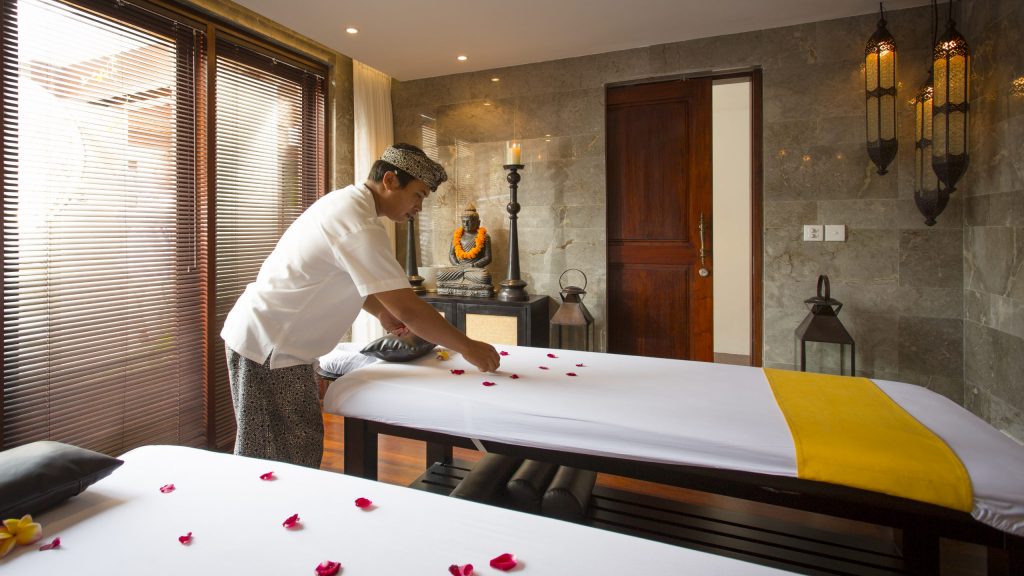 MASSAGE ROOM, VILLA LILIBEL – SEMINYAK, BALI
But while you might be able to have one anywhere in the world, nothing comes close to a massage at the skilled hands of expert Balinese masseurs. Therapists use a firm, kneading massage style to stimulate blood flow, along with pressure point techniques and reflexology to help soothe muscle tension, and the aromatherapy of essential oils to ease you into blissful relaxation.
Beyond the traditional massage techniques, spas in Bali offer a host of traditional beauty therapies that use the healing properties of natural ingredients to scruff, buff, and revive skin, and leave you perfectly preened.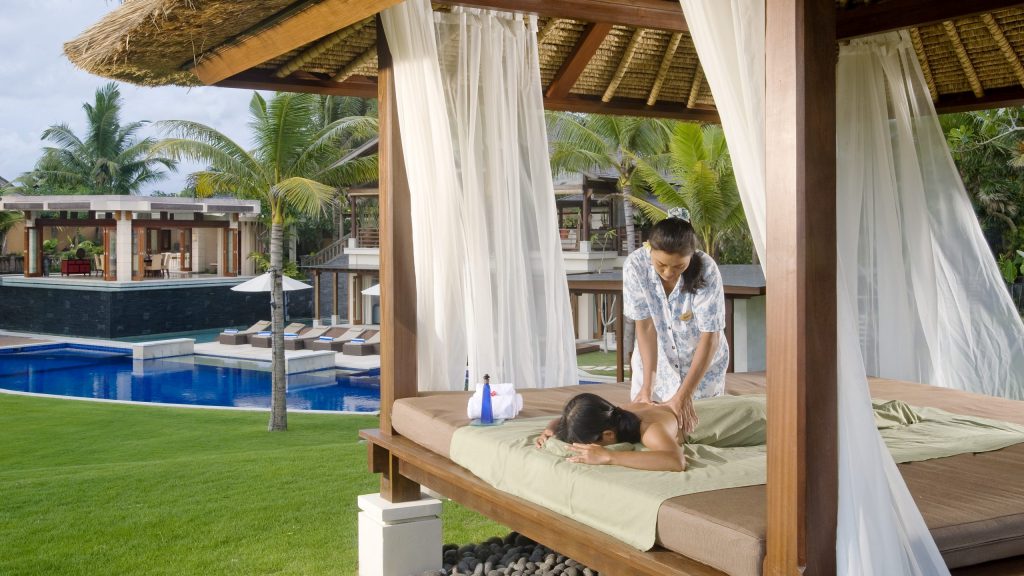 BALINESE MASSAGE AT VILLA SEMARAPURA – CEMAGI, BALI
Balinese massage
Balinese massage starts at the bottom and works up, so as you lie face down, the first port of call for a Balinese massage is your feet. Your therapist will use elements of foot reflexology to stimulate pressure points on your soles, and gently stretch out the lower legs.
The deep tissue work begins on your lower legs and works up to the backs of your thighs – perfect for soothing aches and pains after a run or a hike up one of Bali's spectacular peaks. Then your therapist moves to your back, targeting pressure points along the spine and combining kneading and stroking massage styles to boost blood circulation and gently remove knots in your shoulders.
After you turn over, your therapist works bottom to top again, beginning with the feet and moving up your legs. Balinese massage includes work on the stomach, believed to benefit digestive and reproductive health. The treatment finishes with a gentle massage of your scalp and forehead.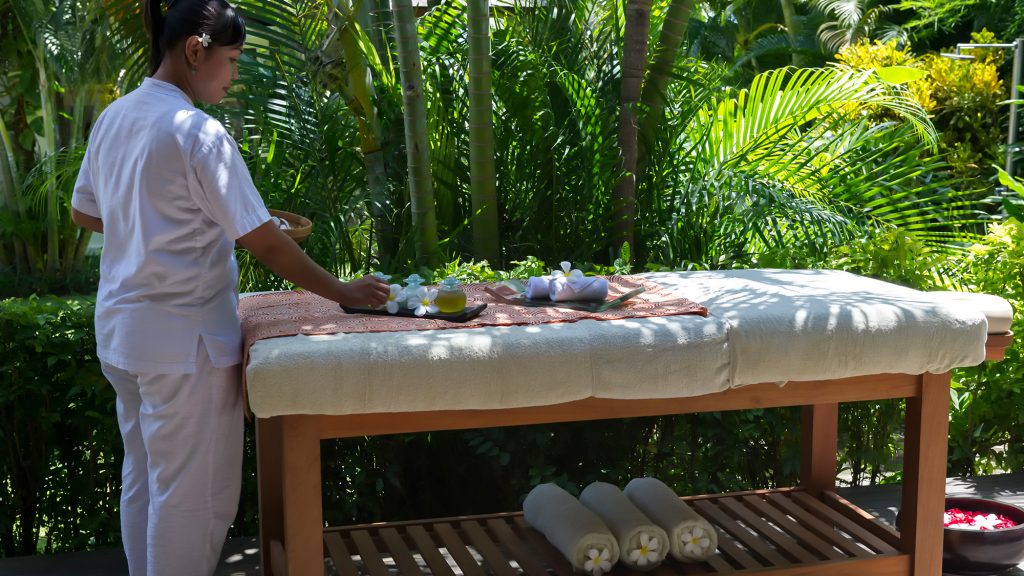 MASSAGE BED SURROUNDED BY NATURE, VILLA MANDALAY – SESEH, BALI
Bali botanicals
The island's rich flora is an important element of Bali's beauty and wellness traditions. Herbs, spices and botanicals have been used for centuries by traditional healers – balians – for their natural benefits to skin and body.
COCONUT OIL: Rich in vitamin E, coconut oil is deeply nourishing for skin, and its anti-microbial properties make it a great massage oil that keeps out infectious bacteria.
FRANGIPANI OIL: The oil extracted from the vivid frangipani flowers that can be seen all over the island makes for a wonderful massage as it's beautifully aromatic and cleansing.
LEMONGRASS OIL: Lemongrass essential oil is used to relieve muscular pain, making it an excellent complement to a restorative Balinese massage.
JASMINE OIL: A familiar aroma in Bali, jasmine essential oil is thought to have anti-depressant and psychological healing benefits, helping you to de-stress and relax during a massage. It's rumoured to have aphrodisiac properties, too.
Tropical aromas are integral to experiencing the complete sensations of Balinese massage. However, any scent-abhorrers or allergy-prone guests can BYO unscented massage oil or simply request plain coconut oil when arranging spa treatments.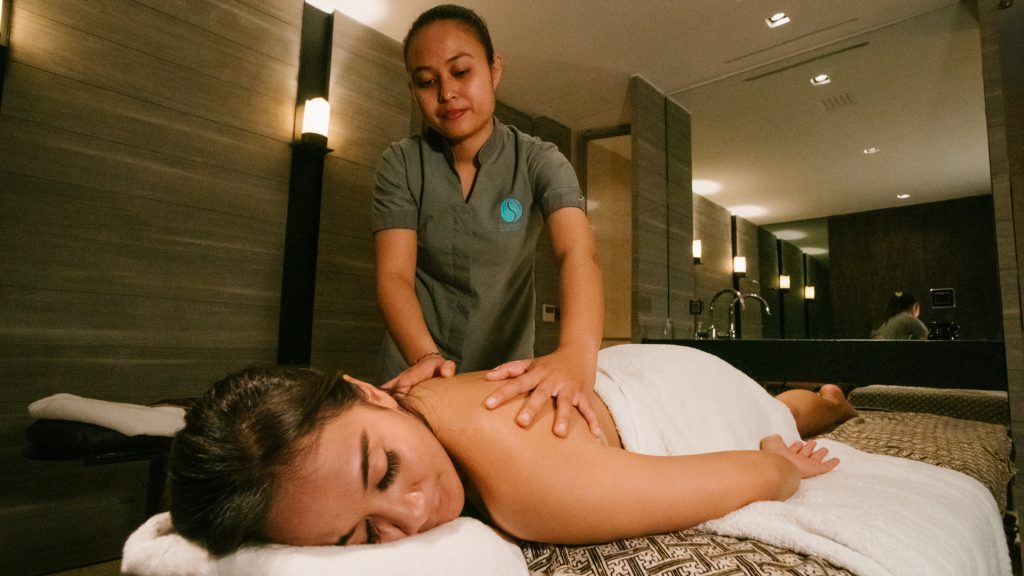 RELEASE TENSION WITH A BALINESE MASSAGE AT SOHAMSA OCEAN ESTATE – THE BUKIT, BALI
Lulur scrub
A regal full-body ritual, the Lulur treatment (also known as Mandi Lulur) originally comes from the 17th Century Java, when royal brides would have a skin scrub using natural, aromatic ingredients to perfect their skin before their wedding.
Brides would traditionally have the lulur treatment every day for 40 days before their nuptials to make their skin soft, supple and glowing. It's still a pre-wedding ritual today for Indonesian brides, and an excellent therapy to purify and exfoliate the whole body.
INGREDIENTS: Different spas have different recipes for their lulur scrubs. The scrubs usually use a rice powder base blended with turmeric and jasmine, and these days many use yoghurt for the exfoliating benefits of its enzymes.
BENEFITS: The scrub gently exfoliates the skin and buffs away dead cells, while the turmeric purifies and stimulates new skin cells to leave you glowing.
WHAT TO EXPECT: A lulur scrub is a fantastic addition to a traditional massage. After the massage, your therapist will apply the lulur scrub all over your body, leave it to work its magic on the skin, and rinse it off while sloughing away the dead skin. You'll finish the treatment with a frangipani-infused bath to deeply moisturise the skin.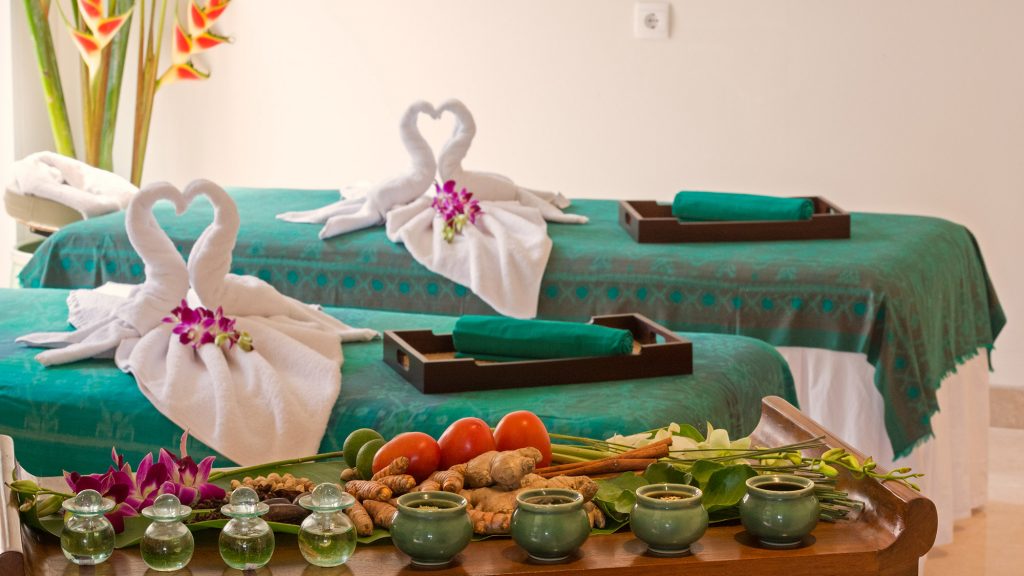 GINGER ROOT, GALANGAL, TUMERIC AND MASSAGE OILS AT PANDAWA CLIFF ESTATE – THE BUKIT, BALI
Balinese Boreh massage
Traditionally a home remedy of Balinese rice farmers to restore their weary muscles and joints after days in the field, Boreh is a healing, reviving body treatment. These days, a luxury Boreh spa treatment will begin with a traditional Balinese massage, and end with a deeply moisturising cream bath, but the traditional core of the therapy – a paste of ground herbs and spices that's applied to the skin like a mask – has stayed true to the age-old practice of local farmers.
INGREDIENTS: Boreh pastes usually contain pulped roots of ginger, galangal and turmeric along with herbs such as star anise, coriander, cinnamon and pepper.
BENEFITS: The blend of natural ingredients warms the skin, relieves aches and pains and boosts circulation. It's still used as a traditional medicine for arthritis and rheumatism
WHAT TO EXPECT: Your treatment will begin with a full-body Balinese massage. After, your therapist will coat you in a Boreh mask that's packed with healing properties, and wrap you in cloth to allow the ingredients to get to work.
BEAUTIFUL PRIVATE SPA TREATMENT AT VILLA KAYAJIWA – CANGGU, BALI
Spas are ubiquitous in Bali. North or south, on the coast or in the mountains, you're never far from a cheap and cheerful village salon or a luxurious wellness resort.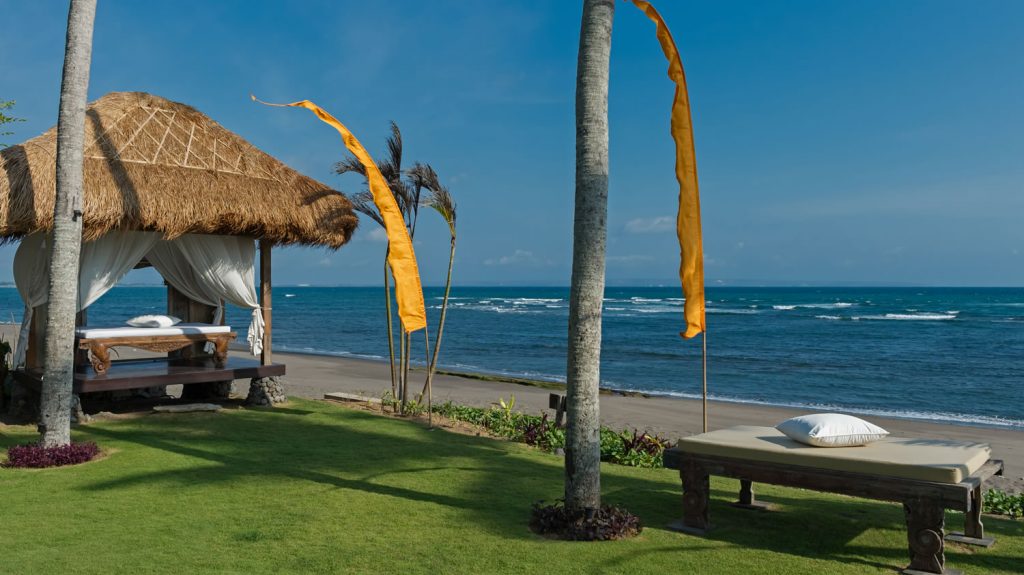 BEACHFRONT MASSAGE BALE, TAMAN AHIMSA – CEMAGI, BALI
The pick of the island's private luxury villas is ready and waiting to offer you the ultimate Balinese relaxation. How about a massage with the sound of the wave rolling into the shore behind you at Taman Ahimsa villa? Or beneath a shaded bale beside your own private pool?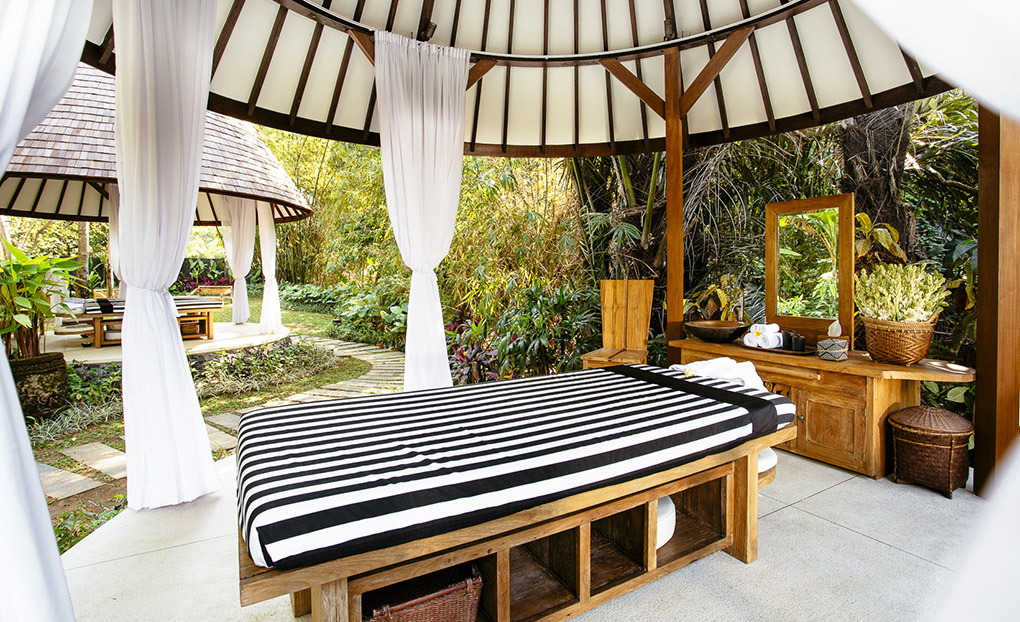 GUEST SPA AT VILLA SIMONA OASIS – CANGGU, BALI
Need your nails done too? No problem. In-villa services include mani and pedi treatments. Whether you're in need of a bit of preening before an island wedding, fancy a group pampering session on a girls' getaway, or you're just looking for a chance to chill out away from the Bali bustle, a private villa holiday doesn't mean missing out on Bali's world-famous wellness treatments.
Bali's wonderful beaches and picturesque mountainsides make it the ideal location for a physical and mental detox. Create the perfect therapeutic experience in the comfort and privacy of your own luxury villa in Bali.