Enter Villa Naam Sawan in Phuket and prepare to be transported to a beautiful, modern version of Thailand. Statues of Buddha are perched beneath a multi-pitched roof. The ceiling is strategically filled with lights that shine on large couches, Thai artefacts and a sleek dining table surrounded by stately chairs. Inviting, with a vast amount of space to envelop you – you feel tiny in here – the villa was designed by the world-famous architectural design team of Philippe Starck and Jean-Michel Gathy.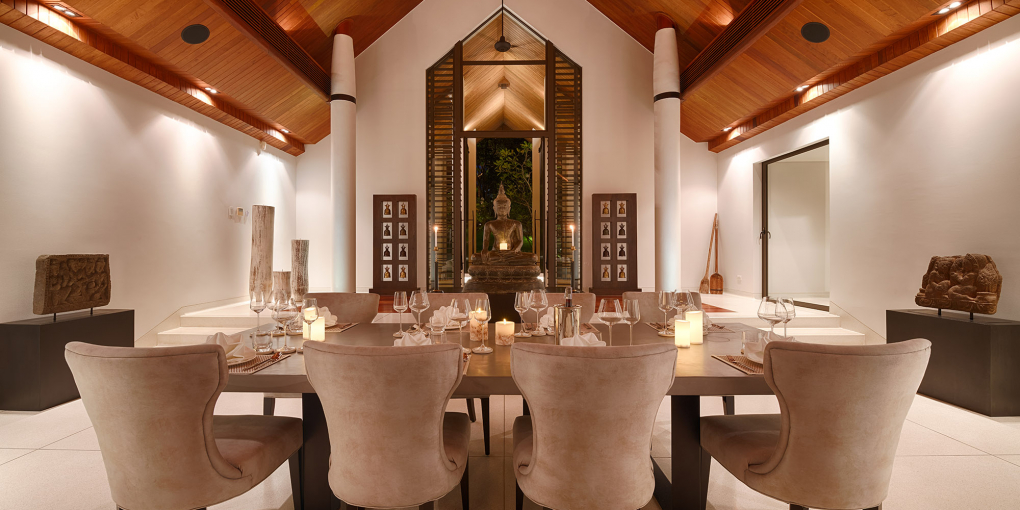 The level below has four luxurious bedrooms. All face the large swimming pool, which looks out onto a private beachfront. You can lose sense of time lounging on any of the large chairs by the pool, or on the bale to the side. This marvelous and spacious villa was made just for that purpose.
We had a quick chat with Villa Naam Sawan's Villa Manager Wawa about what makes her job special.
Elite Havens: Hi! Can you tell us a bit about yourself?
Wawa Biutiatinoni: My name is Nukhatra Biutiatinoni, but you can call me Wawa. I'm 37 years old. I've been the Villa Manager in Villa Naam Sawan for nearly 3 years.
EH: And what did you do before you became a Villa Manager?
WB: I worked with hotels for nearly 10 years within the Front Office function. My roles ranged from that of a Receptionist to Guest Service Supervisor, welcoming new joinees; as an Airport Rep, picking up the guests at the airport and even that of a Butler.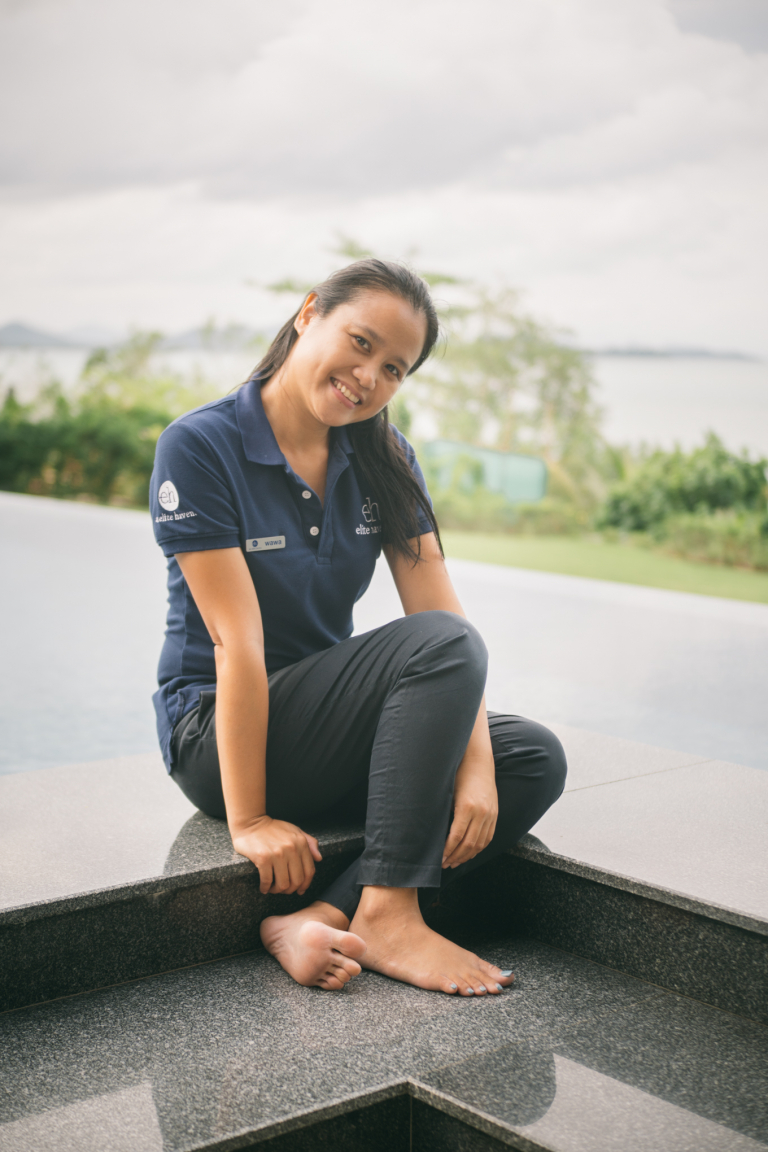 EH: Why did you choose to live in Phuket?
WB: Well, first of all, I love the sea! And the hotel industry is bustling in Phuket. There are many opportunities to work here and you can practice your English. So if someone wants to work in the hotel industry, I recommend Phuket as the place to start your career.
EH: If a guest wants to visit places nearby, what places can you recommend?
WB: First, I must check to find out what they like to do. If someone likes adventure, we have that! If someone likes shopping, we have that too! Or even relaxation. I first ask them what they like so I can recommend something basis their preferences. There are so many things to do here in Phuket, but I will give a personal recommendation to each individual guest. Then, especially if it is their first time here or if they haven't been to Phuket in a long time, I take out the map and show them where on the map these activities are located.
EH: Can you tell us – how did you become a Villa Manager?
WB: When I was working as a butler, I took care of guests – I did everything for them from the time they checked in, until they checked out. And when my chance came to get promoted, maybe to Hotel Manager, somehow I felt that the hotel atmosphere was too busy and impersonal. I thought that if I became a Hotel Manager, I would be bored and not feel fulfilled. Then, my friend told me about this job—that of a Villa Manager. And I thought, "Oh! That's like being a Hotel Manager but the setting is smaller, more personal and you can interact with your guests more closely and on a deeper level."
I realized it's very similar to the job of the Butler, the job title is different—it's a higher position—but the role is very similar to a Butler. So after that, I applied for a job at Elite Havens. At first I was not so confident about being a Villa Manager but now I've found my groove.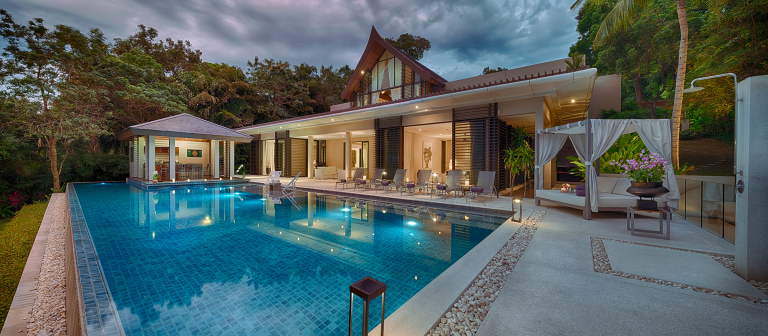 EH: What do you think it takes to be a good Villa Manager?
WB: I think it's important to learn about and understand different nationalities and cultures. Also, communication is very important because it can help you understand your guests better. So if I'm not sure what my guests want, I check with them to make sure I understand their needs clearly. I ask a lot of questions, if I don't know.
EH: And what do you like about your job?
WB: Due to my background in the hotel industry, I have a service-oriented mind. I always want my guests to be happy, I treat them like my family. I'm truly very happy when I see my guests happy.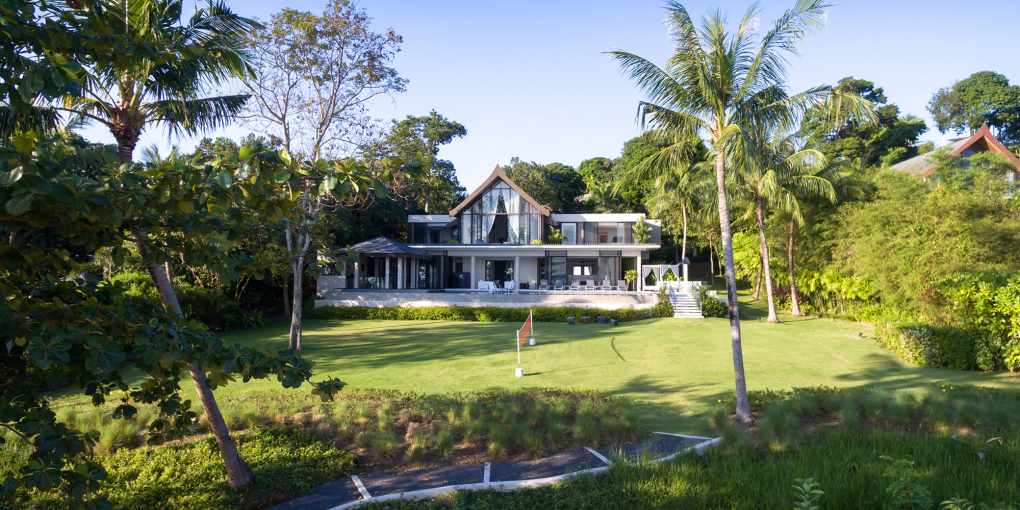 EH: I'm sure you have many interesting stories about guests – can you tell us about one of your favourite experiences?
WB: I think last year, we had two guests, a couple. They were just two guests and they booked the entire villa just for themselves! And we felt a lot of pressure because they were European which meant, intrinsically, that we were not yet familiar with their culture. They had a lot of requests and they were very particular about everything—the food, the linen—everything! We tried our best, though it was quite challenging. But after their stay, they sent us feedback and they told us they had a great time with us and hoped to stay here again someday. It was an incredible feeling to be appreciated for going above and beyond.
Book Villa Naam Sawan now for an amazing island escape. Early bird enjoys up to 15% discount when booking 120 days in advance. Last minute bookings enjoy up to 10% discount. Terms and conditions apply.