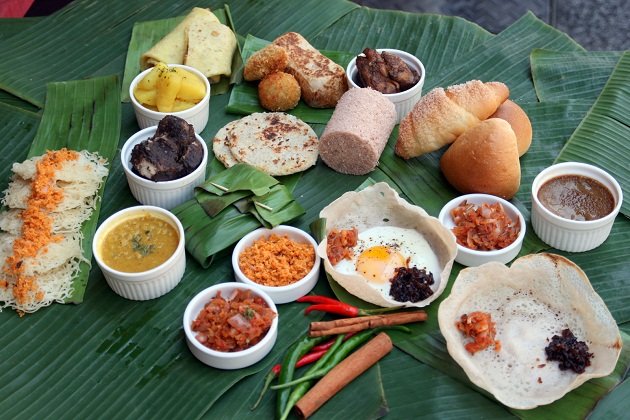 Sri Lankan cuisine isn't particularly well known on the international stage. Although it is often misunderstood or taken to be an extension of Indian food, it is a very unique cuisine. For many who do visit Sri Lanka it's love at first taste!
Sri Lankan cuisine consists mainly of fragrant curries and starchy accompaniments, which include hoppers (crispy bowl-shaped fermented rice flour pancakes), string hoppers (steamed rice flour vermicelli 'nests') and rotis (flatbreads). A cross between Thai and Indian cuisine, traditional Sri Lankan curries are cooked using a fresh spice paste, comprising ginger, garlic, fresh chilli and sun dried spices, with flavours influenced by region and the cook's ethnicity.
Almost any fruit or vegetable can be used to make a curry or an accompanying dish such as a sambol (usually hot and fiery), mallung (shredded greens), or chutney, and a typical meal includes a meat or fish dish, a few vegetable dishes and a lentil curry (dhal). Coconut milk is used in some curries to add creaminess while others are left 'dry', and the result is a really healthy balanced cuisine.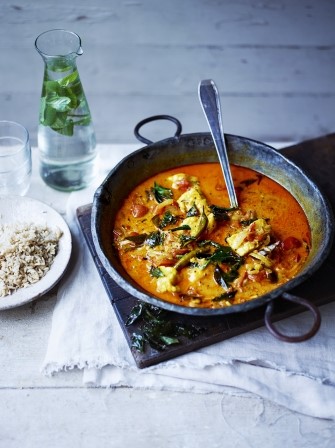 SRI LANKAN CURRY FROM jamieoliver.com
Rice and curry is typically eaten for lunch whereas hoppers and string hoppers are often on breakfast and dinner menus, usually served with a fish and/or dhal curry, a fiery kata sambol (tomato, onion and dried chilli) or a sweet onion relish. Sri Lankans aren't big on desserts, and usually end a meal with fresh tropical fruit, ice cream or an adopted Malay crème caramel-like dish, watalappan.
Sri Lankan New Year takes place in April, and this is a time of celebration for the island's Buddhists and Hindus who prepare special sweets and sweetmeats for sharing. Thanks to the island's Muslims, biryani is another popular 'borrowed' dish as is fried rice or fried noodles, a favourite quasi-Chinese dish adapted by the Sri Lankans that you'll see in many guises on numerous restaurant menus.
You'll be able to try an endless number of delicious Sri Lankan curries when you book a stay at one of our villas in Sri Lanka. The villas come with a full complement of staff, including a chef or a cook, and they can introduce you to the flavours of Sri Lankan cuisine. They will also be happy to teach you how to make your favourite dishes for recreating with your friends and family back home.