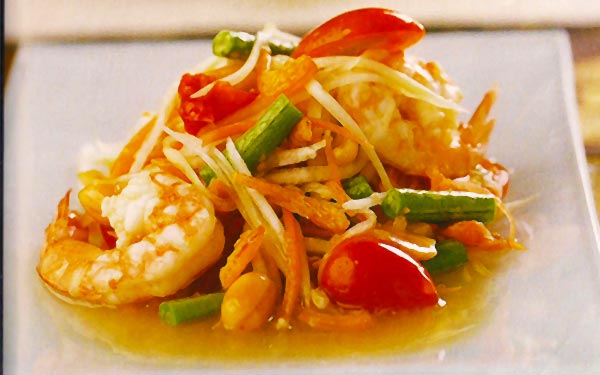 Elite Havens' villa chefs share their special recipes
Elite Havens villas are synonymous with superb dining, prepared by skilled chefs many of whom have trained in internationally renowned restaurants. Villa menus include an extensive range of Western and Asian suggestions, and our chefs will also do their best to cater to guests' special requests. But of course every chef has his or her own 'special' dishes – the ones that guests ask for again and again. With much coaxing and cajoling, we've prised some of these secret recipes from our chefs to share with you.
In this issue, the outstanding chef at the Chalina Estate in Canggu, shares two of his favourite dishes with us.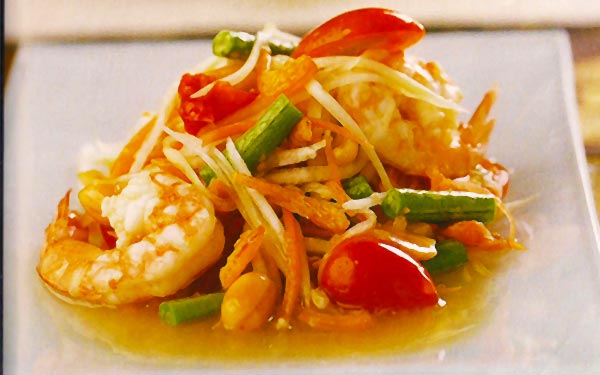 Chalina Estate's
Spicy Green Mango Salad with Prawn
INGREDIENTS:
7-8 prawns, blanched
1 cup of shredded green mango
1/2 cup of shredded carrots
2 string beans, cut into pieces
5 cherry tomatoes
2 tbsp roasted peanuts, crushed
2-4 bird chilies
4-5 cloves of garlic
2 tbsp of fish sauce
1 1/2 tbsp of lime juice
1 tbsp of tamarind concentrate
1/2 cup of cashew nuts
STEPS:
Shred the green mango and carrot
Coarsely pound garlic, chilies, dried shrimps and peanuts
Add string beans, seasonings and tomatoes mix together
Add the carrot and mango, mix well
PREPARATION:
Pound garlic, chilies, dried shrimps and peanuts, coarsely. Add string beans, also lightly pounded. Season with lime juice, palm sugar, tamarind concentrate and fish sauce.
Add the tomatoes, carrots and papaya and lightly mix together. Mix in the blanched prawns and fried cashew nuts. Serve with fresh vegetables.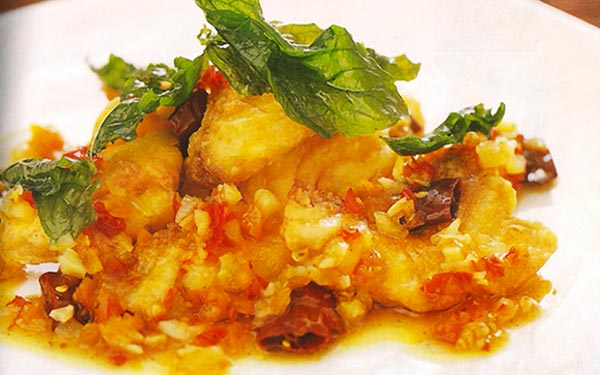 Chalina Estate's
Crispy Fish with Chili Sauce
INGREDIENTS:
350 grms of sea bass, cut into rectangular pieces
1/4 cup of all purpose flour
1 cup of crispy – fried holy basil leaves
vegetable oil for deep-frying
dried red spur chilies
For the Chili Sauce
1/2 cup garlic, finely chopped
3 tbsp of vegetable oil
1/2 tsp of salt
1/2 cup of granulated sugar
1/2 cup of vinegar
2 tbsp of fish sauce
1/4 cup of red and yellow spur chilies,