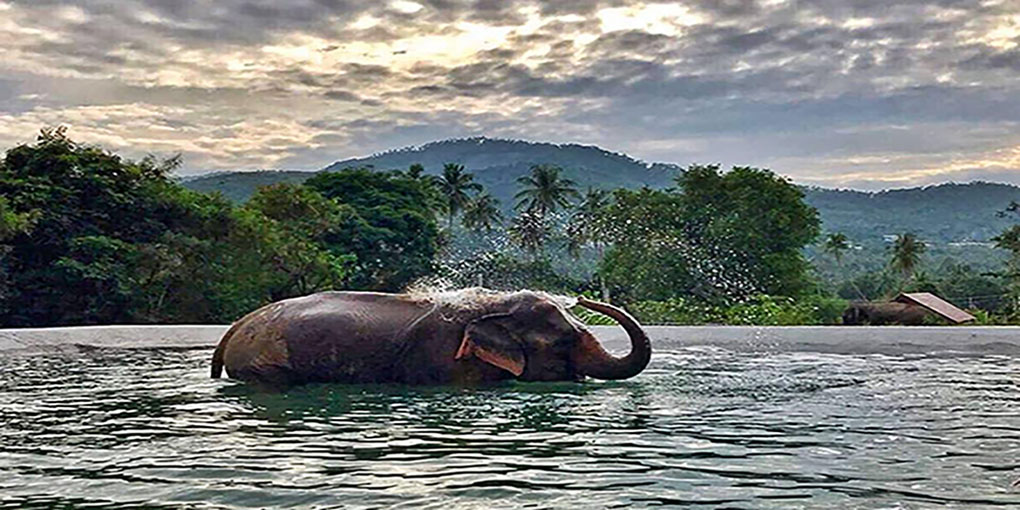 "For the herds of wild elephants show no resentment when domesticated animals join them. They have none of that herd instinct directed against the stranger that one finds in cattle, in small boys, and among many grown-up men. This tolerance is just one of the things about elephants which makes one realize they are big in more ways than one."
― J.H. Williams, Elephant Bill
Samui Elephant Sanctuary opened on 16 January 2018 by Founder Wittaya Sala-Ngam and is the first ethical elephant sanctuary in Koh Samui. Currently, there are five elephants in their care; Cartoon, Kham San and Sri Nin (50 – 60 years old) who came to the sanctuary from the local riding camp on Koh Samui. The sanctuary also has two younger elephants; Nong Pech (7 years old) and Moloair (9 years old) who came to the elephant sanctuary from Surin province.
Samui Elephant Sanctuary offers tours that educate visitors about the importance of these extraordinary, majestic giants. You will be able to feed and walk and observe the elephants as they forage, socialize and play, and do what elephants do, and that's be elephants.
These five elephants that now live, at the Samui Elephant Sanctuary, have come from an extremely hard life, working long hours in the entertainment or logging industries. These stunning animals have been beaten and made to do what their owners wanted by use of force and torture. Having a chair strapped to their back or painting a picture has never been part of their natural environment. The positive news for elephants is that times are changing and projects such as the Samui Elephant Sanctuary are becoming the new way for a tourist to experience elephants.
The Samui Elephant Sanctuary is the perfect opportunity for families, couples, and friends to discover the life of elephants in a stunning natural setting and enjoy these beautiful creatures in a way that does not take advantage of the animal. The project works under the Save the Elephant Foundations "off Saddle" program.
On arrival, you will be welcomed by extremely friendly and highly dedicated team of staff, many of whom are volunteers, that are all committed to the well-being of the animals. The tours focus on observation of the elephant's natural behaviors and as such, they do not allow guest to join the elephants in the mud pit or swimming pool and of course NO RIDING.